The Allegiance is a modern commercial project located on Main Jinnah Avenue, New Blue Area Islamabad. The project has easy access to all the main sectors of Islamabad city.
The Allegiance Islamabad
The allegiance offers well-planned and modern shops and offices of different sizes at affordable rates. The available shop sizes are ranging from 604 sq. ft size to 1864 sq. ft. sizes.
Location
The project is located on Main Jinnah Avenue opposite to the F-9 Park Gate-01 (Mehran Gate). You can access Centaurus Mall within 5 minutes, and McDonald's F-9 within 4 minute drive.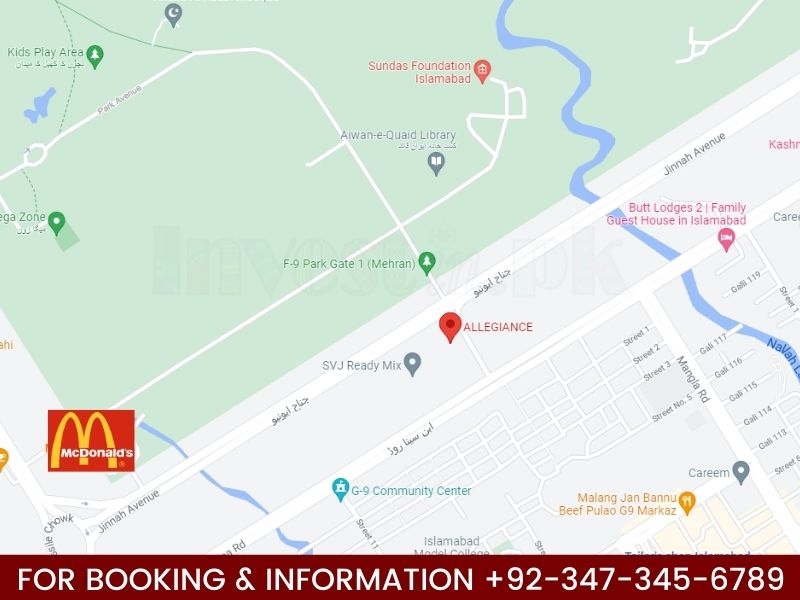 Payment Plan
The project has 9 floors in total on which there are well-planned shops and corporate offices available at an affordable payment plan. You can book your shops by paying a 30% down payment and the remaining amount can be paid in 11 quarterly installments. The rate per square feet on each floor is different. Below we are sharing a detailed Payment Plan of Allegiance Islamabad.
Lower Ground: Rs.115,000 Rate/Sq.ft
Ground Floor: Rs.140,000 Rate/Sq.ft
1st Floor: Rs.115,000 Rate/Sq.ft
2nd-9th Floor: Rs.55,000 Rate/Sq.ft
Commercial Shops In Allegiance
Shop Size: 798 sq. ft.
Total Price: Rs.91,770,000
30% Down Payment: Rs.27,531,000
11 Quiarterly Insttallments: Rs.5,416,727
On Possession: Rs.4,655,000
Shop Size: 756 sq. ft.
Total Price: Rs.86,940,000
30% Down Payment: Rs.26,082,000
11 Quiarterly Insttallments: Rs.5,131,636
On Possession: Rs.4,410,000
Shop Size: 824 sq. ft.
Total Price: Rs.115,360,000
30% Down Payment: Rs.34,608,000
11 Quiarterly Insttallments: Rs.6,795,182
On Possession: Rs.6,005,000
Shop Size: 695 sq. ft.
Total Price: Rs.97,300,000
30% Down Payment: Rs.29,190,000
11 Quiarterly Insttallments: Rs.5,731,364
On Possession: Rs.5,065,000
Shop Size: 736 sq. ft.
Total Price: Rs.103,040,000
30% Down Payment: Rs.30,912,000
11 Quiarterly Insttallments: Rs.6,069,364
On Possession: Rs.5,365,000
Shop Size: 1180 sq. ft.
Total Price: Rs.165,200,000
30% Down Payment: Rs.49,560,000
11 Quiarterly Insttallments: Rs.9,730,909
On Possession: Rs.8,600,000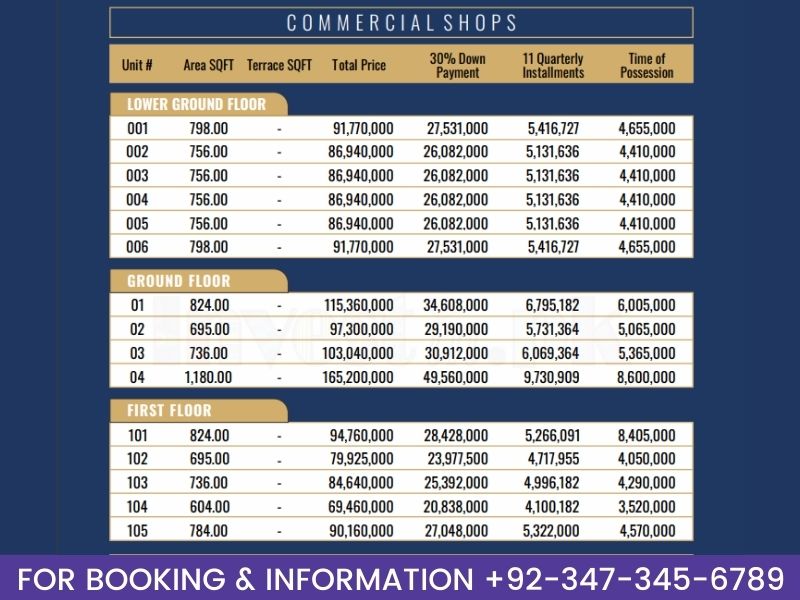 Offices In Allegiance Islamabad
Office Size: 919 sq. ft.
Total Price: Rs.50,545,000
30% Down Payment: Rs.15,163,500
11 Quiarterly Insttallments: Rs.2,996,955
On Possession: Rs.2,415,000
Office Size: 757 sq. ft.
Total Price: Rs.41,635,000
30% Down Payment: Rs.12,490,500
11 Quiarterly Insttallments: Rs.2,468,591
On Possession: Rs.1,990,000
Office Size: 782 sq. ft.
Total Price: Rs.43,010,000
30% Down Payment: Rs.12,903,000
11 Quiarterly Insttallments: Rs.2,550,182
On Possession: Rs.2,055,000
Office Size: 1179 sq. ft.
Total Price: Rs.64,845,000
30% Down Payment: Rs.19,453,500
11 Quiarterly Insttallments: Rs.3,845,136
On Possession: Rs.3,095,000
Features & Facilities
Electricity Backup
Gated Community
Prime Location
Sui Gas
World-class finishing and fittings
Tiled Flooring
Water Supply
Modern Infrastructure
Internet
Carpeted Roads
Maintenance Services
Lifts
CCTV Surveillance
24/7 Monitoring
Swimming Pools
Gymnasium
Mosque
Food Court
Terrace
Nearby Educational Institutes, Public Transport, Hospitals
Images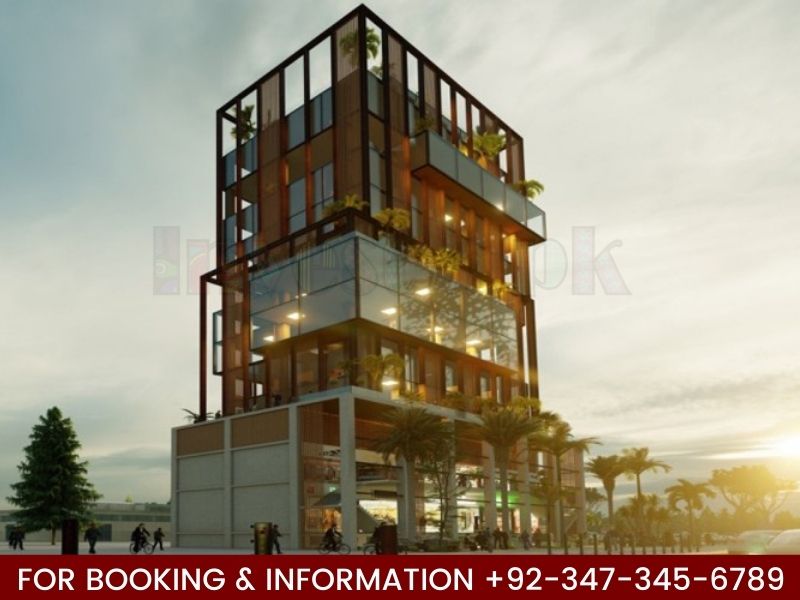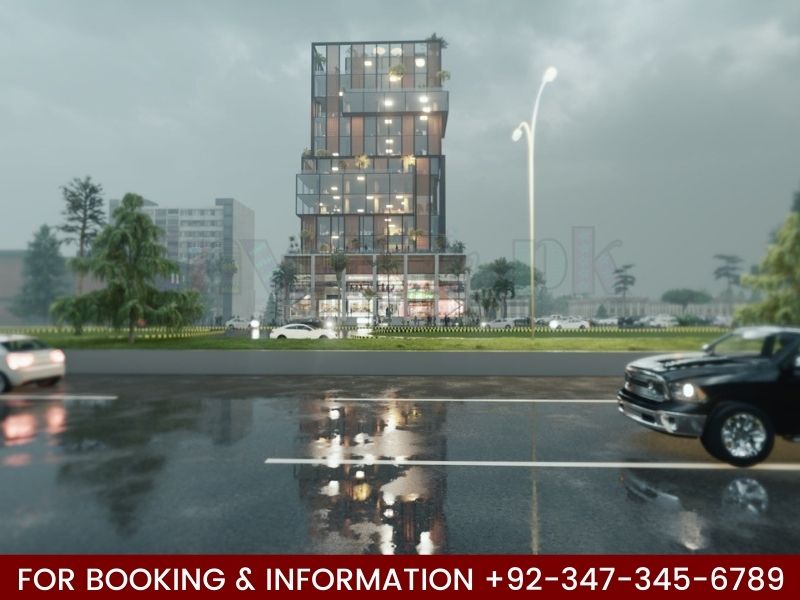 Contact Details