Eighteen Islamabad Overview
Eighteen welcomes you to a world-class lifestyle destination located beneath the scenic Margalla Hills towards the Southwest of Islamabad. Strategically situated at the prime location of Srinagar Highway (aka Kashmir Highway) near the new Islamabad International Airport, Eighteen offers an exquisite lifestyle with state-of-the-art villas, apartments, offices, and shops and exclusivity of luxurious living.
[sc name="18-google-converstion-tracking-wa-button"][/sc]
Eighteen is a world-class lifestyle destination that offers a unique living experience with top-class amenities and luxuries. Eighteen Islamabad is presently designing a community of deluxe villas and apartments equipped with high-end facilities. The project presents the opportunity to lead a secure, relaxing, and luxurious lifestyle in the city.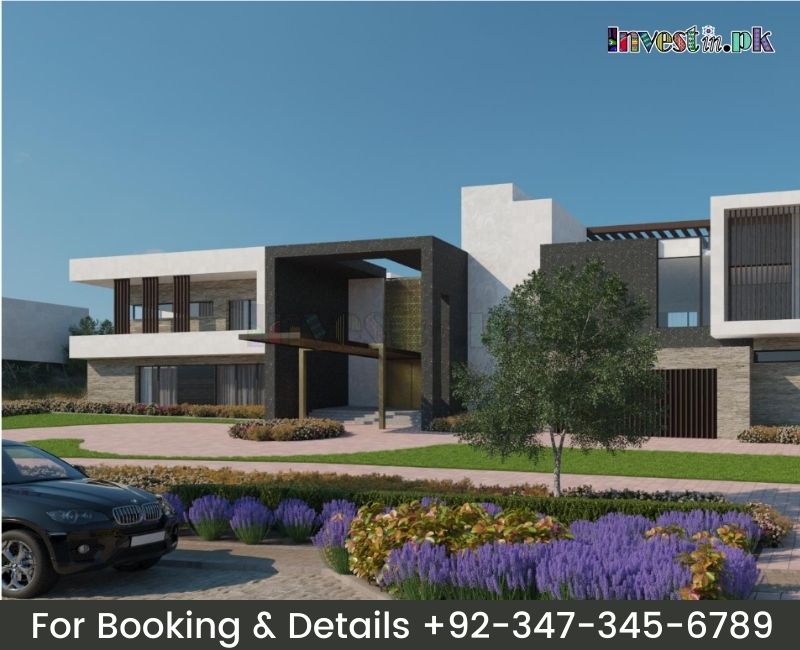 Committed to creating a family-friendly and secure space, Eighteen offers elegant living options suitable for families of all sizes. Families can choose between studio, one-bed, two-bed, three-bed & four-bed luxurious apartments furnished with world-class facilities as well as Half Kanal, 1 Kanal, 2 Kanals, 4 Kanals & 8 Kanals lavish private villas.
Eighteen is the only of its kind project in Pakistan offering a true ultra-luxurious lifestyle. The most stunning features of the project include:
Out of 2.77 million square yards area of the entire project, only 16% is allotted for housing. The remaining area is mostly greenery, open spaces, golf courses, and lakes
The entire project is designed by the world's renowned urban planners, architects, and interior designers
The housing is equipped with ultra-luxurious amenities and high-end tech features which are first in Pakistan
We will discuss these features and all related information in detail, one by one below.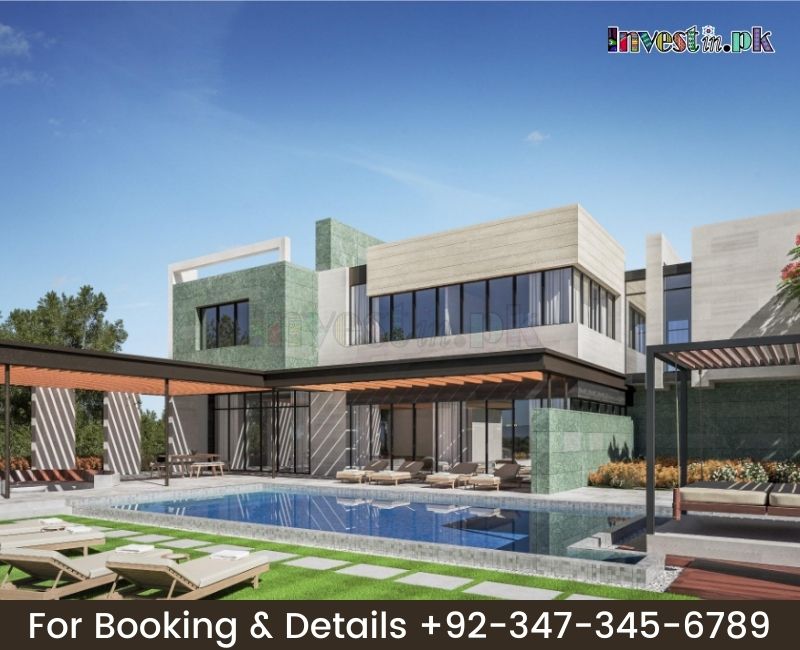 About Eighteen Developers
The Ora Developers are developing Eighteen in partnership with Saif Group and Kohistan Builders & Developers. The project is a milestone in the city's history as its Pakistani and Egyptian developers are renowned for their good reputation and innovative culture in the industry. This plan is being developed under the vision of introducing a new way of living in Pakistan. The project's design and construction are matchless and one of the best in the country. It is designed as a sustainable living society that promises to create the ultimate lifestyle for its residents. The community developers have devised the society to be a secure and relaxing destination serviced with world-class amenities.
Ora Developers has a proven and diverse history of successful international projects, including the Grosvenor Square in the UK, Ayia Napa Marina in Cyprus, Silver Sands in Grenada, and Pyramid Hills, Pier 88, Crimson Bar & Grill, and the Nile City Towers in Egypt.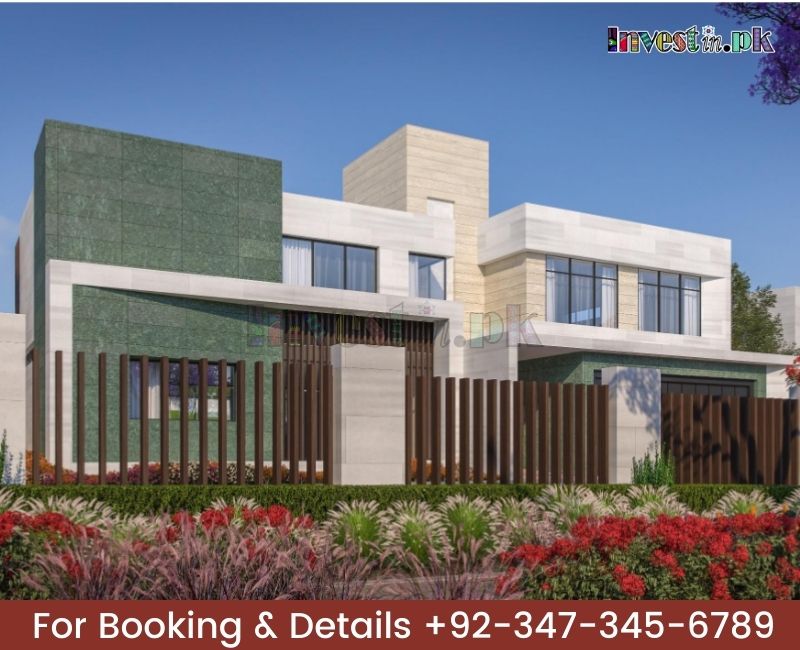 The Saif Group was established in the late 1960s and has created a rich portfolio in textile, power generation, oil and gas exploration, optical fiber and healthcare. Kulsoom Intl' Hospital in Islamabad is one of the flagship projects of the Saif Group.
Kohistan Builders & Developers is a name trusted around the country. Making their mark with projects like Midway Centrum, Royolson Hotel, and Hamza Tower, they have proved their capability at every point.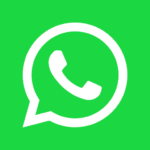 Eighteen is not just a living destination, it is a dream come true. It is a well-planned community of high-end and modern villas and apartments that are furnished with premium utilities. With a relaxing environment encompassed with the scenic panoramic views of the city, it is a dream brought to reality. Eighteen is fashioned to become the best in class while offering the best design, construction, and sustainable living to create the ultimate lifestyle destination.
Eighteen's Interchange Approval for Access from Sirinagar Highway
As per Eighteen's team, the project has got the interchange approval on main Srinagar Highway. Here is a letter to Eighteen from FWO (MORE) being circulated, indicating about an MOU signed between Eighteen and FWO for the construction, operation, management and maintenance of Interchange to be built for providing access to the society from main Sirinagar Highway.
Project Highlights
Eighteen is strategically developed on an area of 2.77 million square yards. 16% of the total area is allotted for buildings, 35% for golf courses, 17% for roads, 12% for community services, 11% for open spaces, 5% for commercial spaces, and 4% for utilities. The entire project is based on beautifully landscaped wide roads with panoramic views.
Over 2000 residential units, with 1068 luxury villas and 971 modern and sophisticated apartments. The apartments are distributed over 28 buildings with a maximum of four apartments per floor and seven floors per building.
The luxurious villas are distributed into ten clusters of villas according to the strategically planned floor map and footprint. All villas are surrounded by the stunning landscape of open spaces or golf courses. The sizes of these villas start from a minimum of ½ Kanal and go up to 1, 2, 4, and a maximum of 8 Kanal.
One of the most iconic projects of the eighteen is its 18 hole 7,200 Yards of a Championship Golf Course
40,000 Square feet of Club House with a cricket field, cricket pavilion, sports club, swimming pools, tennis courts, sports halls, squash courts, yoga studio, golf – pro- retail shops, and restaurants.
560,000 square feet of high-end luxury shopping area with 1200 parking lots to entertain residents and visitors at the square in Eighteen.
2 Million Square Feet of Business Parks at the Core at Eighteen with 13 unique office buildings.
110,000 Square feet dedicated for medical facilities area at The Clinic at Eighteen, with on-site emergency and non-emergency services
150-rooms boutique hotel with halls and events spaces to accommodate more than 1,000 people
Eighteen is strategically located at the most prime location in the capital city of Islamabad. New Islamabad International Airport is only 10 minutes away, and the drive to downtown Islamabad is barely a few minutes. Overall, it is the perfect place one can imagine living in.
Residence In Eighteen
Presently, Eighteen is working on two projects to provide a world-class residence to its inhabitants while offering state-of-the-art technology, comfort, and luxury. These are:
The city-style apartments, curated with wide-angle, uninterrupted golf course views, are suitable for all family sizes. The real estate giant works with the leading architects and design planners to formulate innovative blueprints and optimize available residential space.
Lavish private villas are suitable for families for those who desire more space, luxury, and peace.
The residential spaces at Eighteen provide an array of luxurious living options suitable for families of all sizes. The options are discussed in more detail below.
Villas In Eighteen
Eighteen provides a serene and private assemblage of villas. These villas are created to offer Pakistani families and overseas nationals comfortable and charming living spaces furnished with modern amenities, optimized features, and contemporary designs. They are perfect for families with high standards when it comes to luxurious design, comfort, and lifestyle. These exceptional homes are well constructed and blend beautifully with their natural surroundings.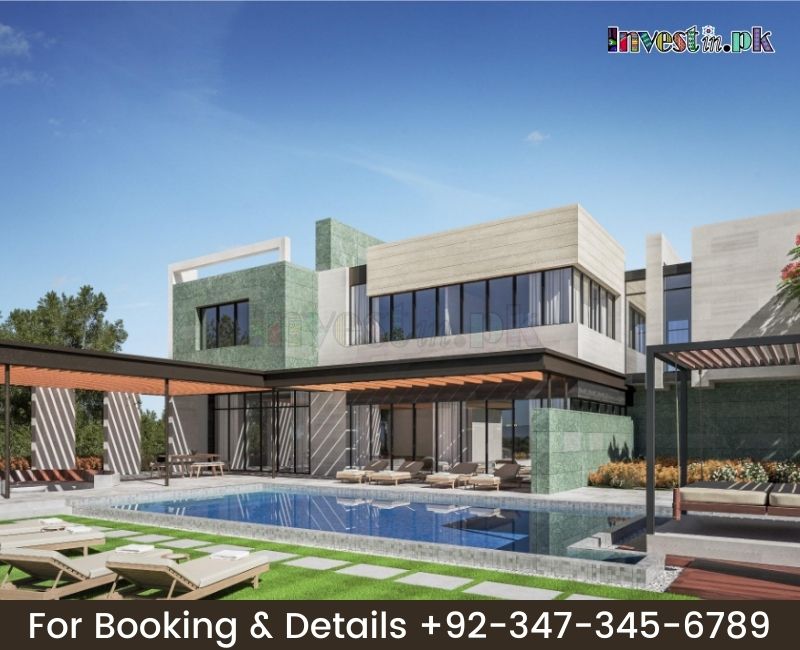 Villas are designed in an intriguing and exclusive crescent shape to provide the experience of extraordinary homes. The contemporary design features elegant living rooms, spacious kitchens, and indulgent bedrooms and bathroom suites. Each villa looks out onto broad parkways, and all are carefully mapped out to maximize the sights of the golf course and stunning hill views at the Eighteen.
Eighteen Villas Payment Plan
There are 2 types of residential properties available in Eighteen Islamabad.
i) Modern & Luxurious Villas
ii) Luxury Apartments
Villas In Eighteen Islamabad
In eighteen Islamabad the luxurious villas are available in 5 different sizes which can be booked by paying a 15% down payment and the remaining amount can be paid on 4 years installments plan.
Half-Kanal
1 Kanal
2 Kanal
4 Kanal
8 Kanal
The price of a half-Kanal villa is PKR. 7-7.5 crore. The villa can be booked by paying a 15% down payment. The remaining amount can be paid in a 4-year easy installments plan. The size of half-Kanal villas are ranging from 2206 to 5941 sq. ft.
The total price of 1 Kanal luxury villa is PKR.12 Crore. The size of villas are ranging from 4510 to 8977 sq. ft. which can be booked by paying a 15% down payment.
2 Kanal villa in Eighteen can be booked by paying a 15% down payment. The total price of a luxury villa is PKR.18 Crore and the villa sizes are ranging from 8331 to 10494 sq. ft. sizes.
The total price of 4 Kanal luxury villas is PKR.30 Crore which can be booked by paying a 15% down payment. The remaining amount can be paid in easy installments. The 4 Kanal villa sizes are ranging from 18,008 to 27,717 sq. ft. sizes.
The total price of 8 Kanal luxurious villa is PKR.52 Crore which can be booked by paying a 15% down payment. The remaining amount can be paid in easy installments. The 8 kanal luxurious villa sizes are ranging from 78,760 to 44,465 sq. ft.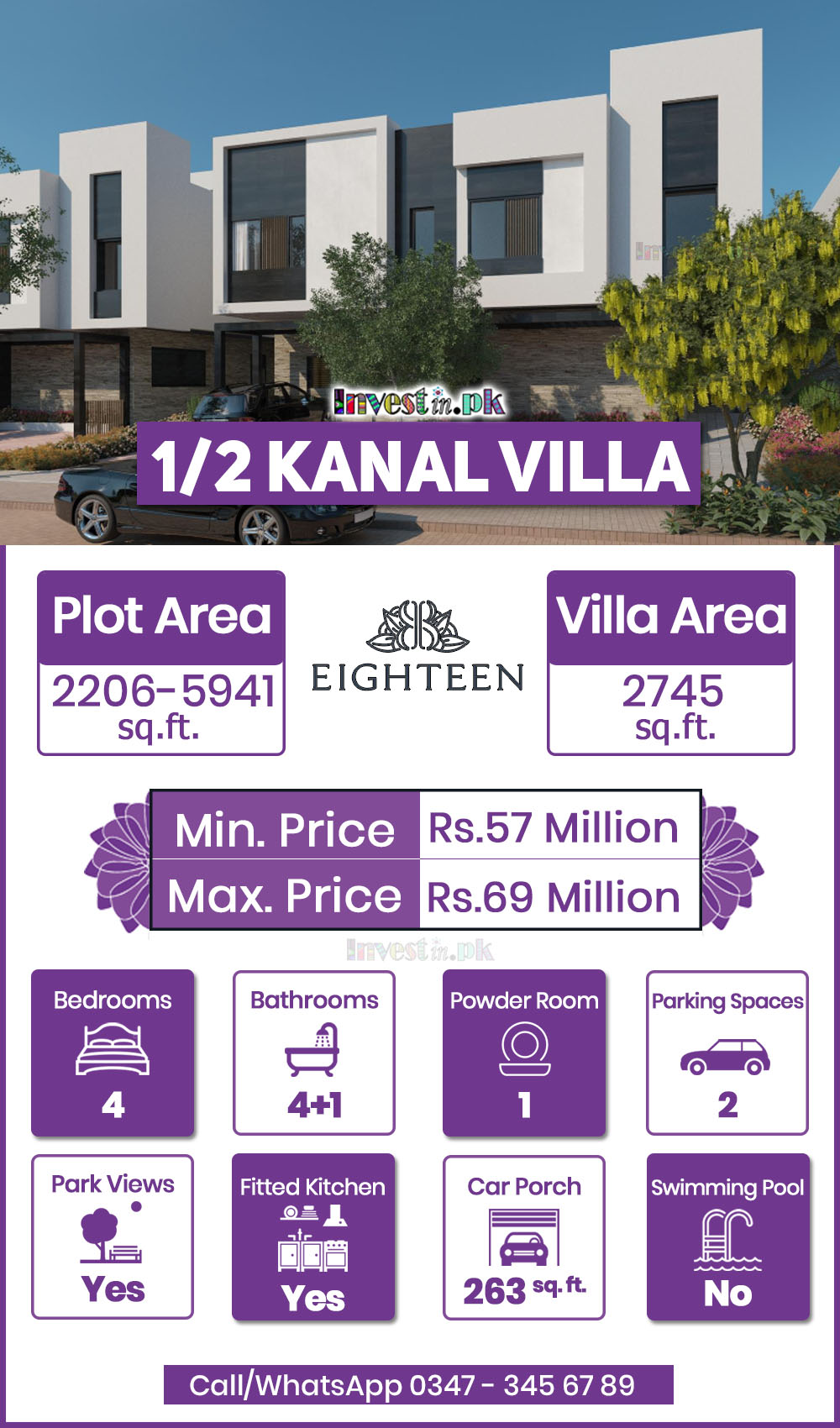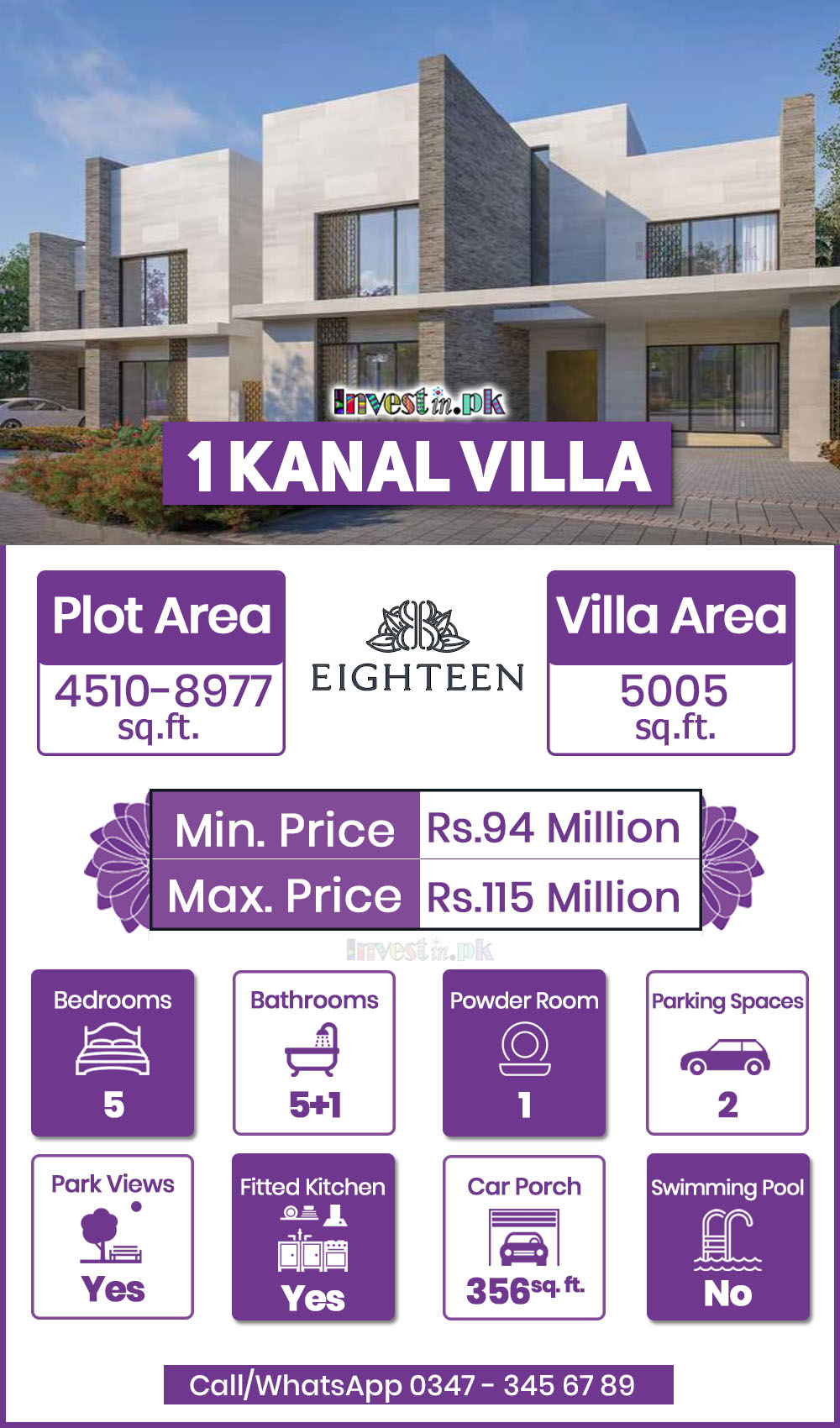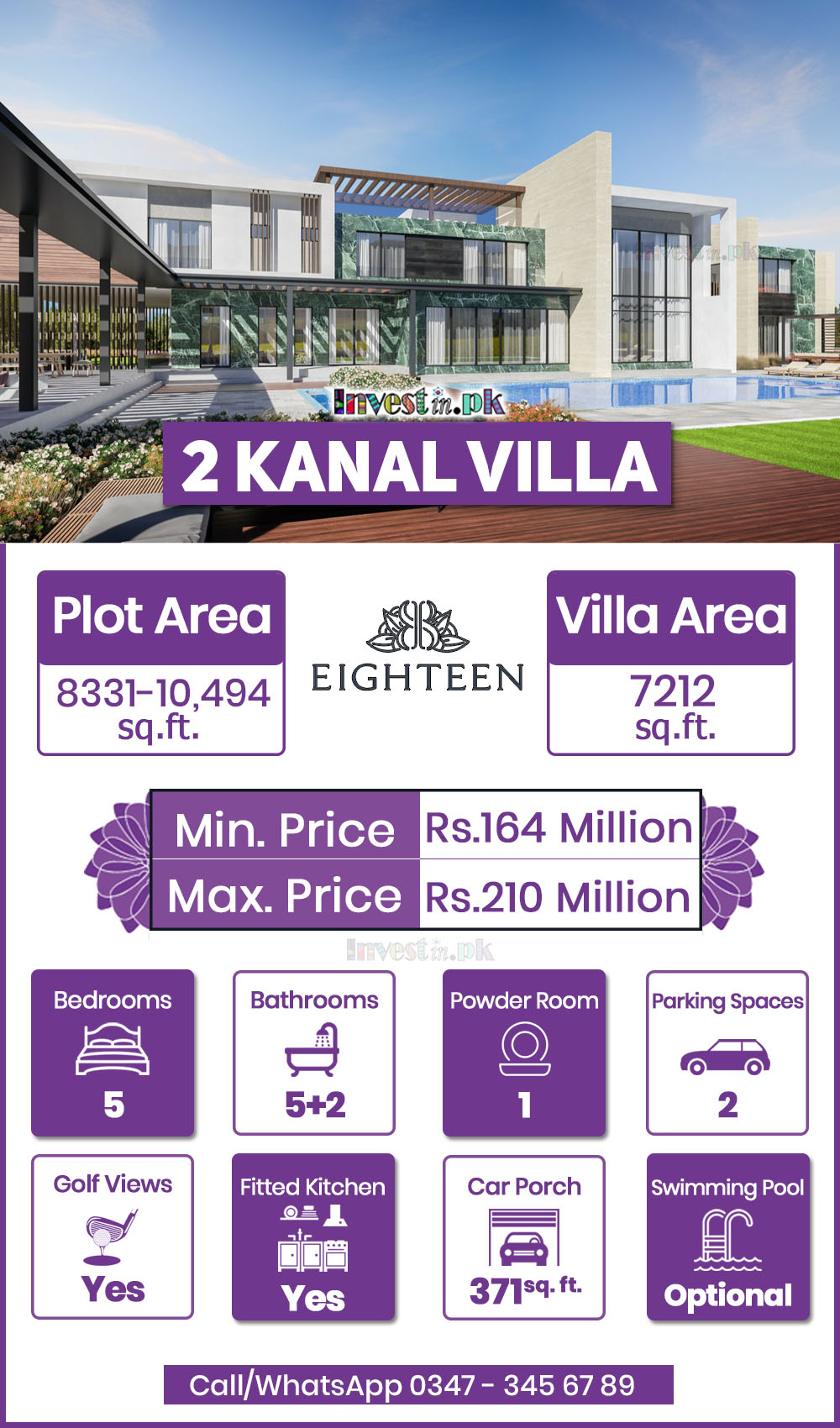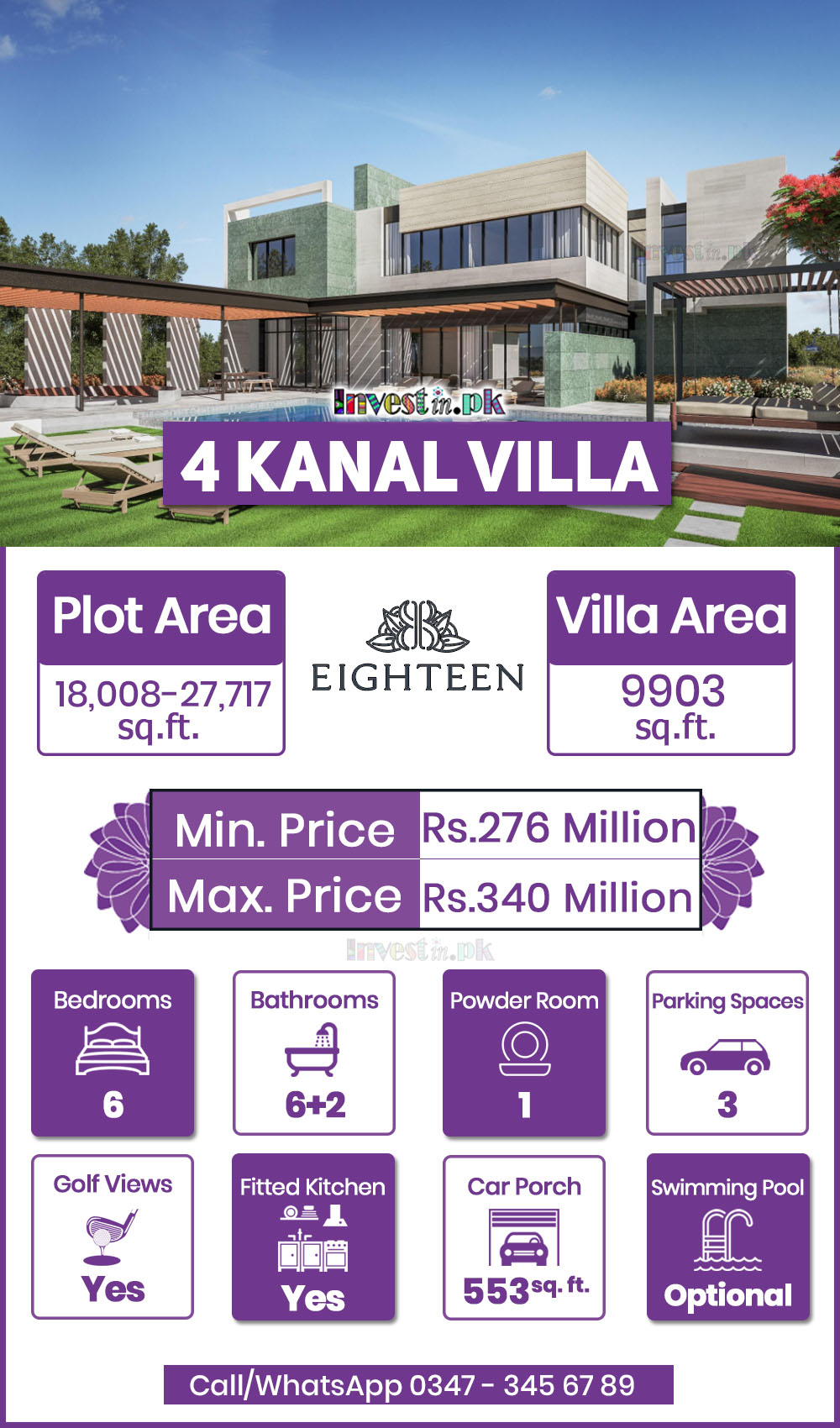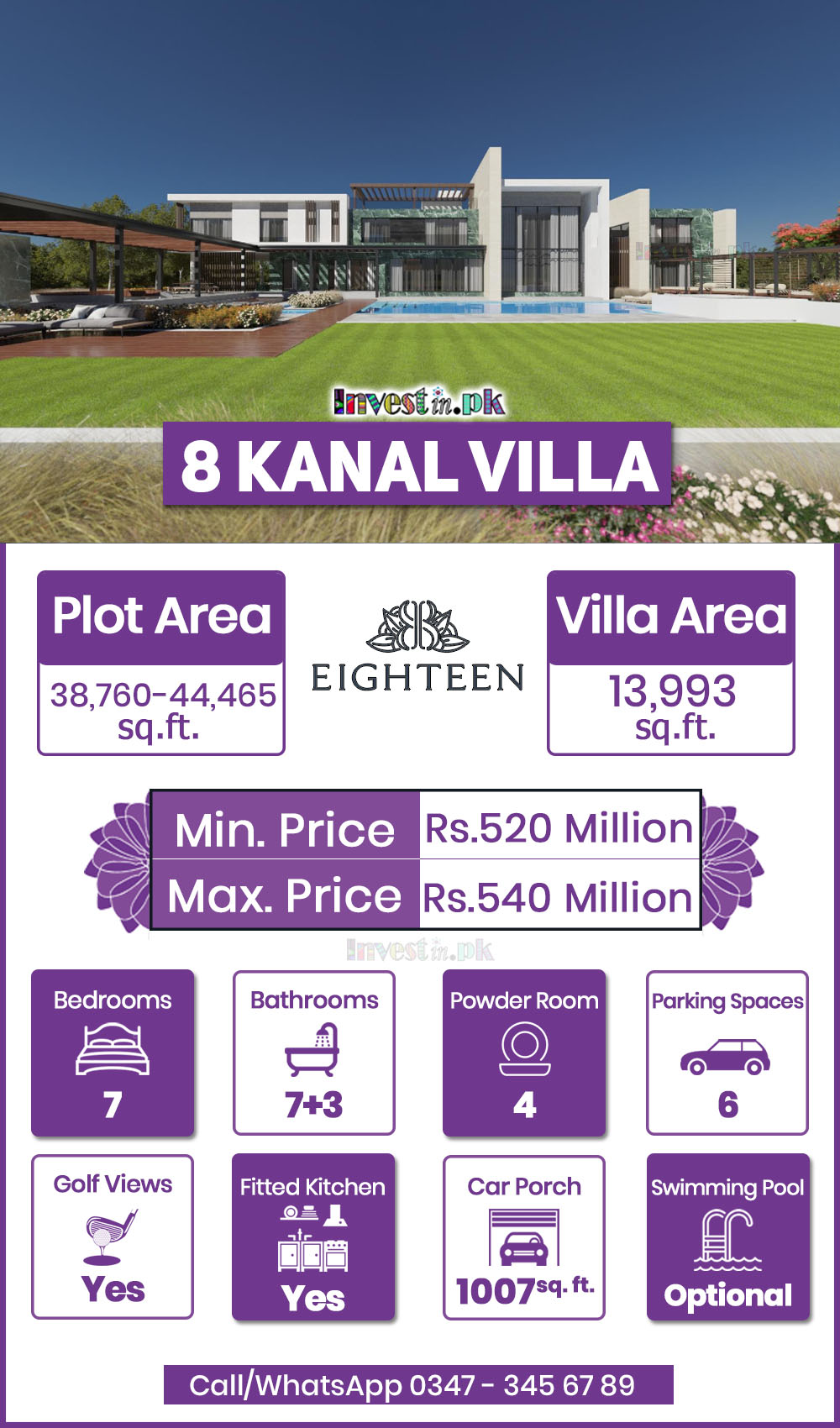 These prices vary from villa to villa and as some features are optional, they may charge more. The plot sizes and the covered area are also different and may vary. All the prices will see adjustments according to the features.
The price structure is carefully developed to ensure a quick and smooth transition of Villas to its customers. The payment can be made in full or in easy installments. The installment plan comprises of 4-year quarterly installments.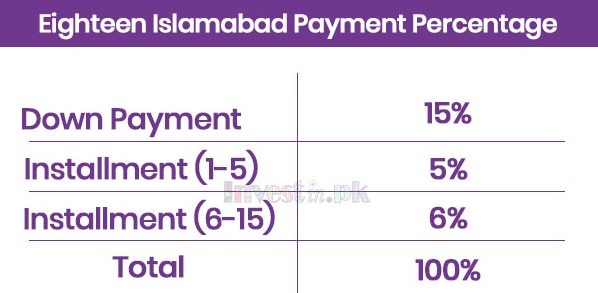 These prices depend upon the size of the villa and the features included in it. In addition, the plot sizes and the covered area are also different. All the prices can be adjusted according to the villa's components.
The price structure is mindfully planned to ensure villas' quick and smooth purchase transition to its customers.
Luxurious Eighteen Apartments
Luxury apartments at Eighteen offer an unparalleled level of luxury across 18 pavilion-style buildings. The apartment complex at Eighteen guarantees a lavish cosmopolitan lifestyle. They provide gracious low-rise apartments and top-class accommodation that sets new standards for luxury apartments in the country. With a wide range of apartment sizes, including studio, 1-bed, 2-bed, 3-bed, and 4-bed apartments, families are guaranteed to lead a comfortable and luxurious lifestyle at Eighteen.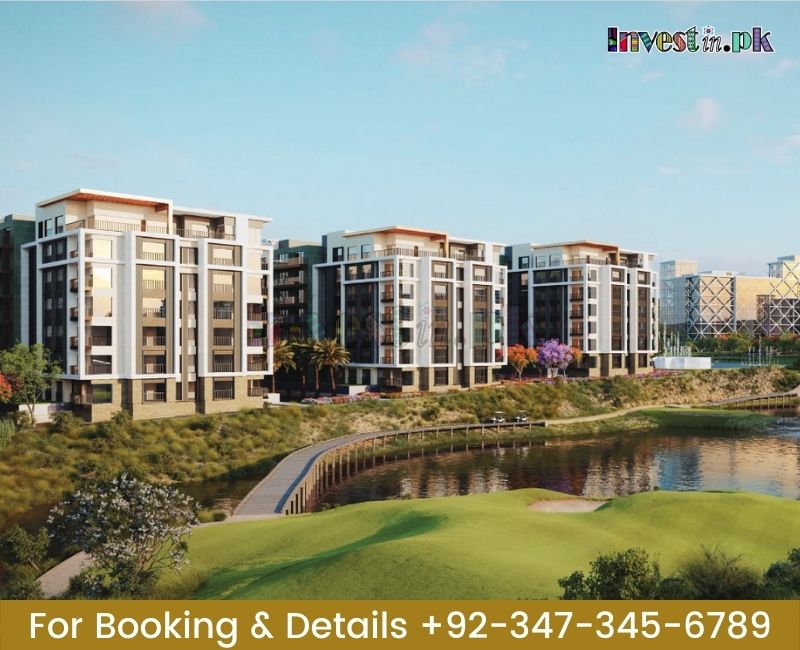 Residents get to witness mesmerizing golf courses and hill views from their windows as they open their curtains every day. Each building accommodates a maximum of 4 apartments per floor, and the towers are not more than seven floors high. This unique design helps residents maintain a safe and comfortable lifestyle.
Eighteen Apartments Payment Plan
Eighteen Islamabad offers state-of-the-art luxury apartments & Villas at affordable rates.
The luxury apartments are available in 4 different sizes. These apartments can be booked by paying a 15% down payment and the remaining amount can be paid in 4-year installments.
Studio Apartment size is 774 sq.ft. which can be booked by paying a 15% down payment.
The 1-Bedroom Apartment size is 968 sq. ft. The total price of One Bed is PKR. 2-2.5 Crore which can be booked by paying a 15% down payment.
2-Bed Luxury Apartment can be booked by paying a 15% down payment. The total price of the apartment is PKR.3.5 Crore. All these apartments are equipped with world-class features & facilities.
A 3-Bed Luxury Apartment can be booked by paying a 15% down payment. The total price of the 3-bed apartment is PKR.4.5~5.5 Crore. All these apartments are equipped with international standard fittings and finishes.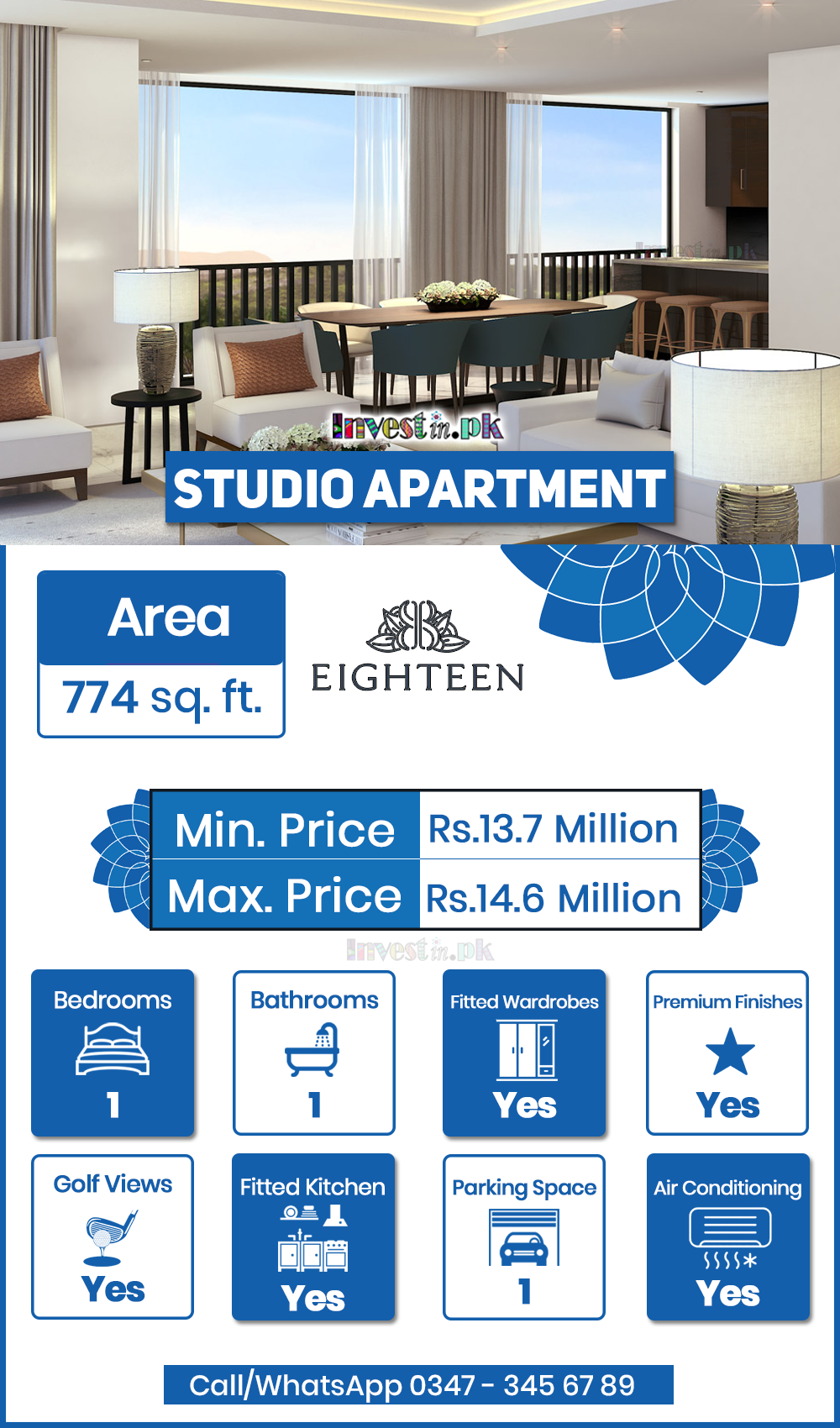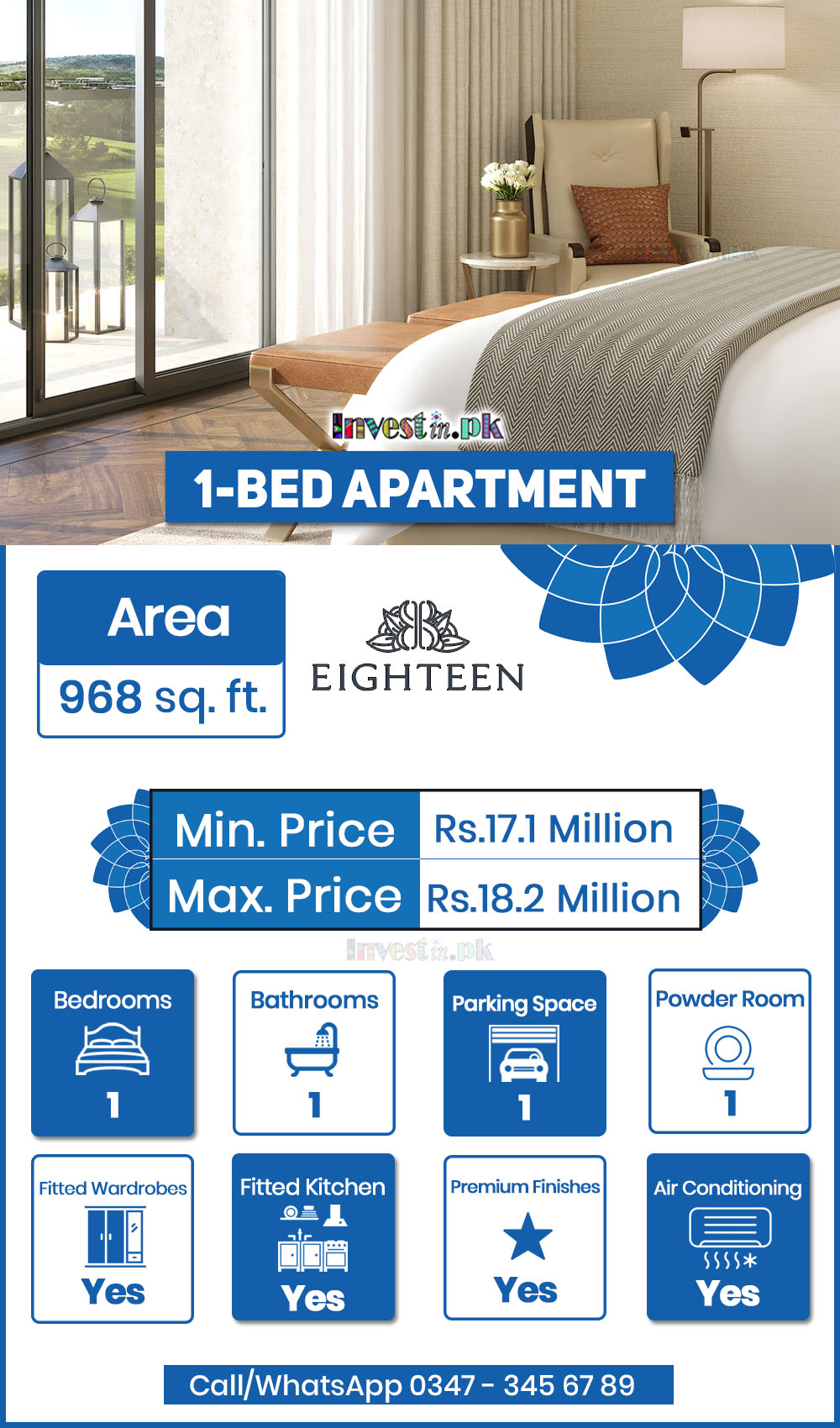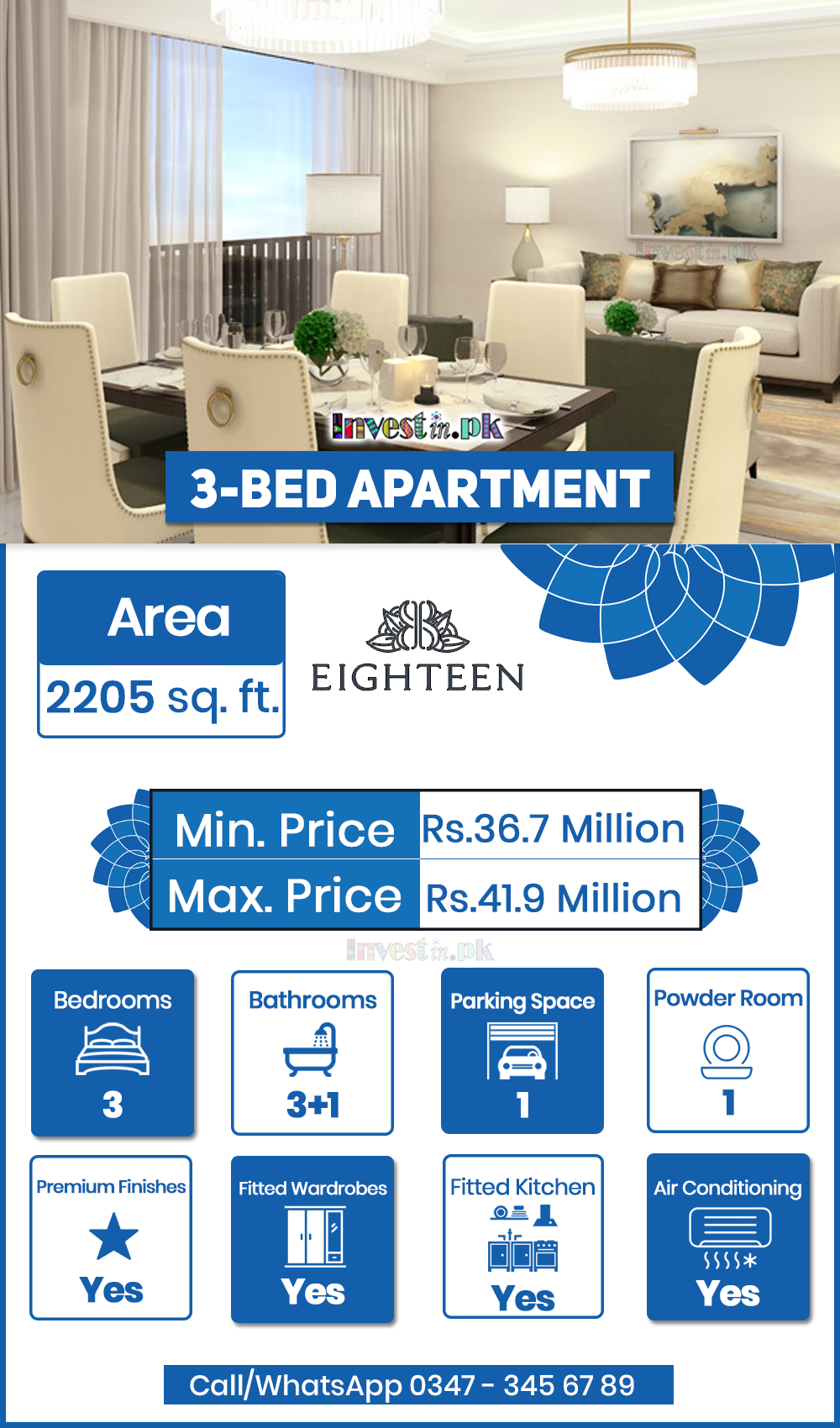 Eighteen Islamabad Luxury Villas
Eighteen Islamabad is offering Luxurious Private Villas of Different Sizes.
8 Kanal Villa Image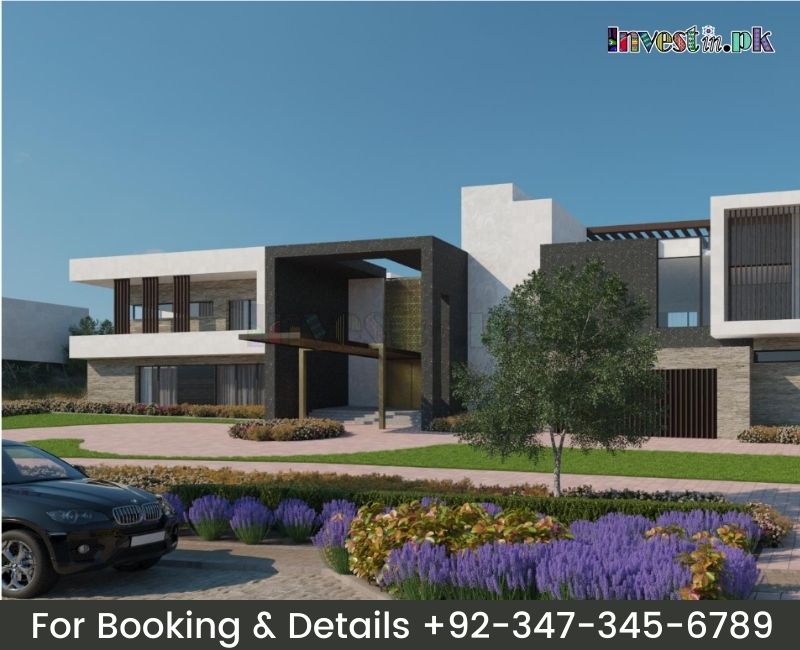 4 Kanal Villa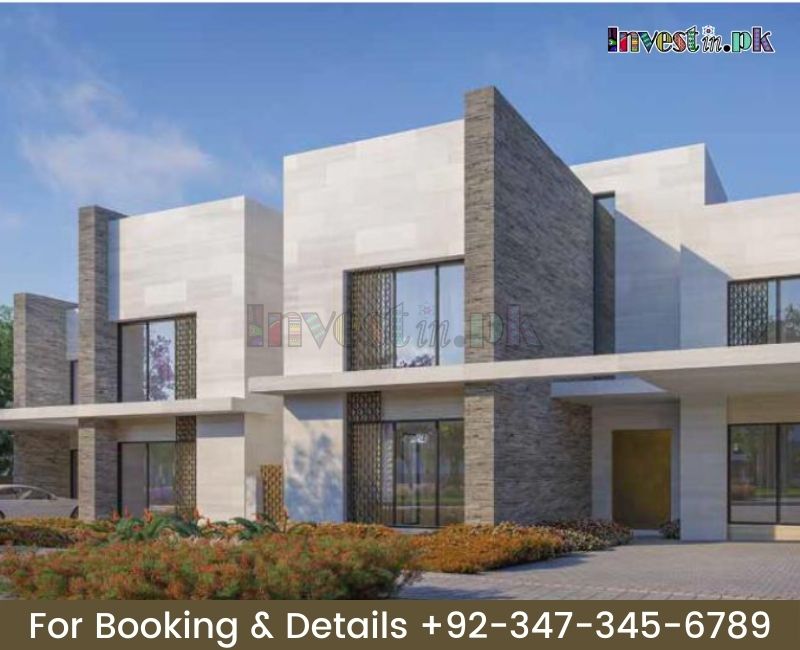 2 Kanal Villa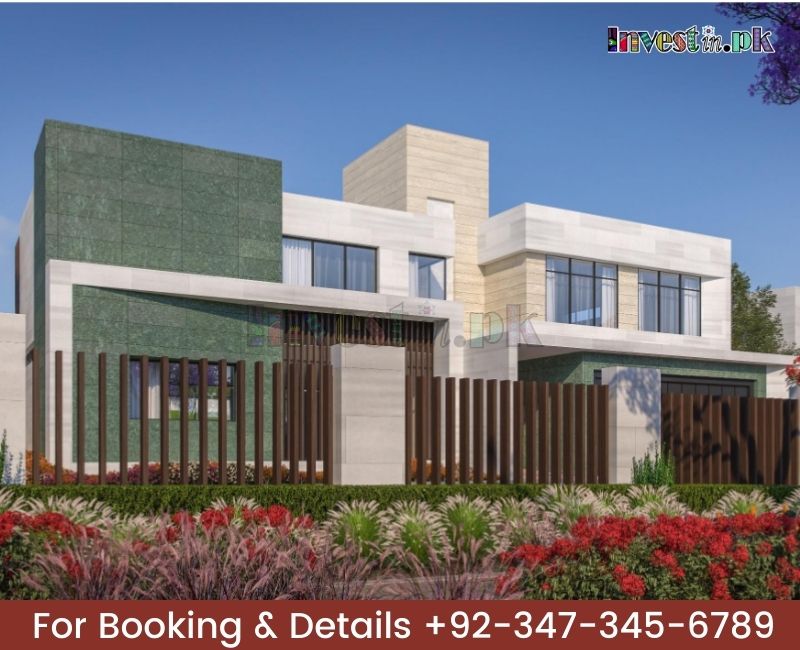 1 Kanal Villa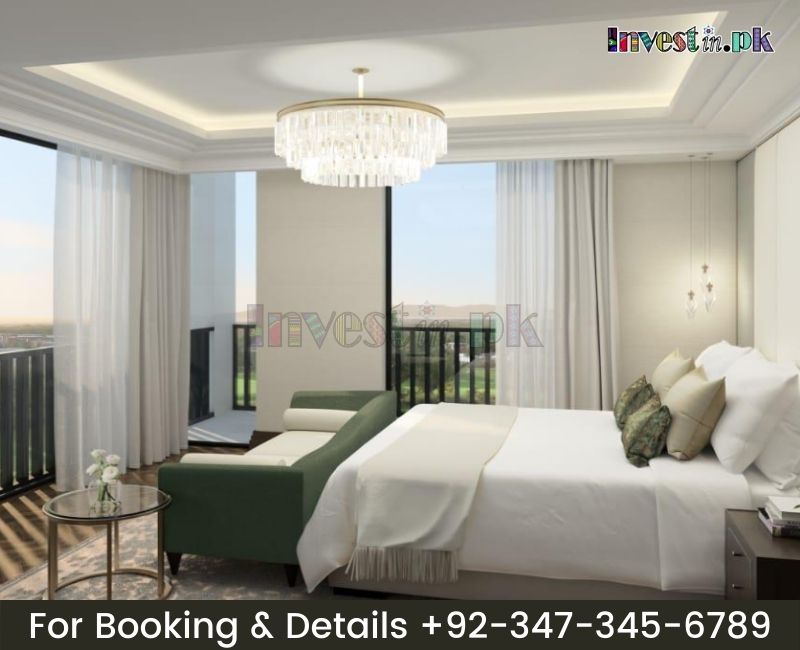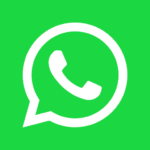 The Club
Eighteen offers an exquisite level of luxury living with its Club at Eighteen. It provides a professional 7200-yard 18-hole Championship Golf Course. The golf house sits at the heart of the complex and offers breathtaking panoramic views and ultimate leisure facilities. The club serves as a social and entertainment hub for society's residents.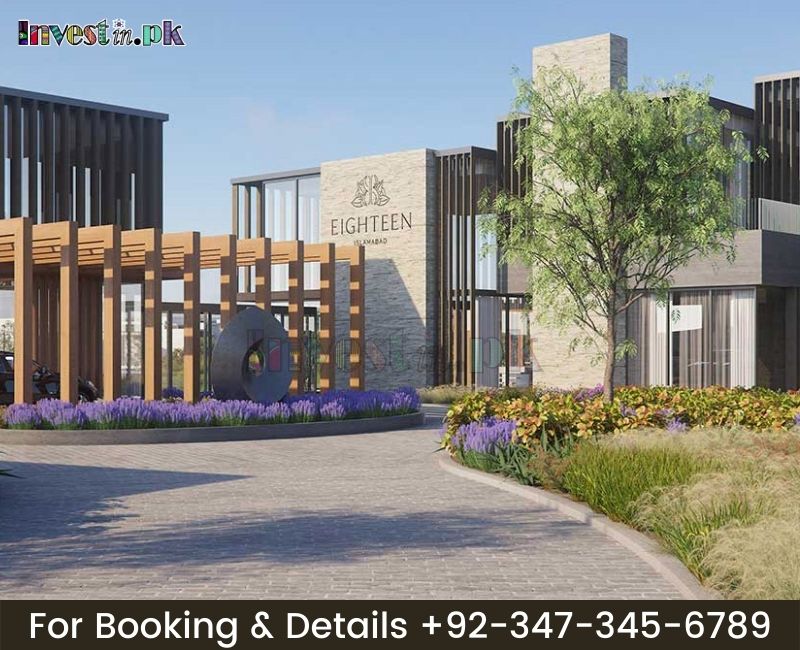 Its exceptional leisure facilities include a cricket pitch, squash and tennis courts, swimming pool, pro golf store, yoga studio, and gourmet dining. Rooftop terraces are available for enjoying sunset drinks and a cigar lounge. All in all, the Club at Eighteen is the heart of the whole development. It is a contemporary masterpiece at a strategic location that overlooks the 18-hole championship course.
The Square
The Square at Eighteen is a remarkable site with a dedicated entrance from the Srinagar highway that leads directly to the square. The square provides residents and visitors with exclusive high-end shopping and dining services in a refreshing, open-air courtyard.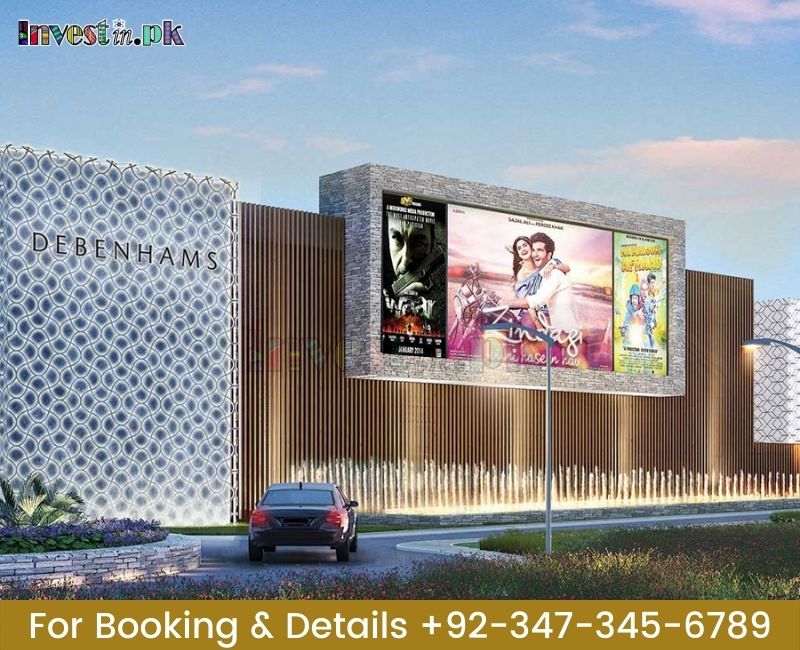 It is an exciting destination that offers the best in retail therapy and unparalleled entertainment options. The visitors can enjoy a secure and pleasant shopping experience while savoring gourmet food at fine dining restaurants. Shops in malls range from exclusive fashion stores to everyday essentials shops and dainty cafes.
The Core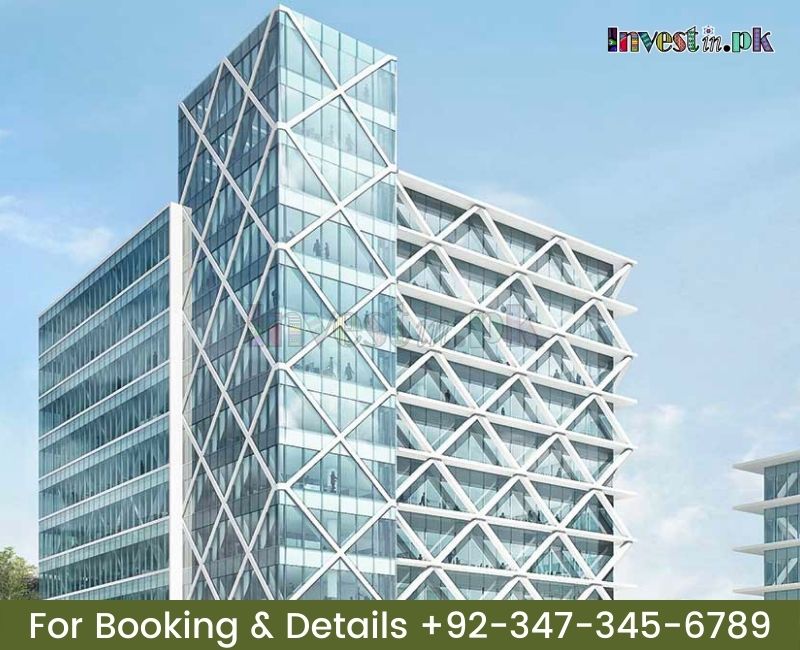 The Core at Eighteen offers a new business hub for businesses and entrepreneurs that enables them to benefit from the high-tech facilities. There are a total of thirteen buildings covering state-of-the-art commercial facilities. The design of this impressive business park reflects local culture and architecture and provides automated and advanced office amenities. Strategically located near the new airport and downtown Islamabad, the Core is ideal for setting up one's office in Pakistan. The Core offers the most exemplary standards of luxury, international living, and a world of exceptional amenities.
The Clinic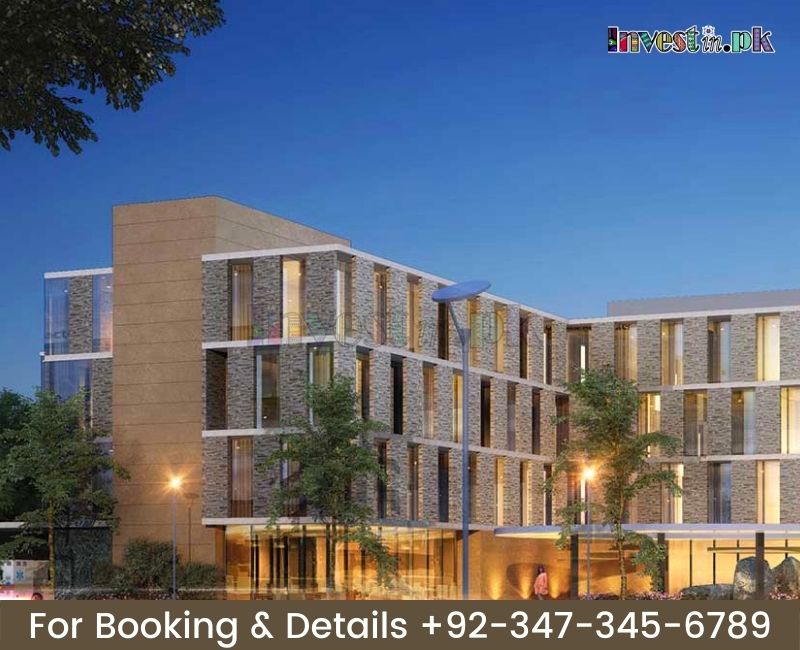 With an exclusive state-of-the-art medical center that offers residents both emergency and non-emergency medical facilities on site, Eighteen provides the best healthcare. There is a wide range of inpatient and outpatient wards with residential specialists on-call at all times. All these services are located a few minutes drive away from the inhabitants' homes.
The Resort
Eighteen offers ultimate leisure and resort facilities, a five-star boutique hotel built with exceptionally high standards for the residents to enjoy the best. With only 150 rooms in a humongous space, it provides privacy and seamless personal services that can be expected from the world's finest hoteliers. The ultimate facilities include a spa, full gym facilities, extraordinary dining options, and an event space that can accommodate up to 1000 guests.
Retail & Community Services
Office Park
Mobilink Parcel
Hotel
APartments
Clinics & Trauma
Utilities
Schools
Convenience Shops
Local Masjid
Workers Housing
Residential Community
Golf & Country Club
Residential Entrance
Village walk & Parkway
Graveyard
Commercial Entrance
Neighbourhood Green
Natural Reserve
Post Fire & Police Sation
Retail Parking
Arrival Square
Sports Facilities
Eighteen Islamabad Location Map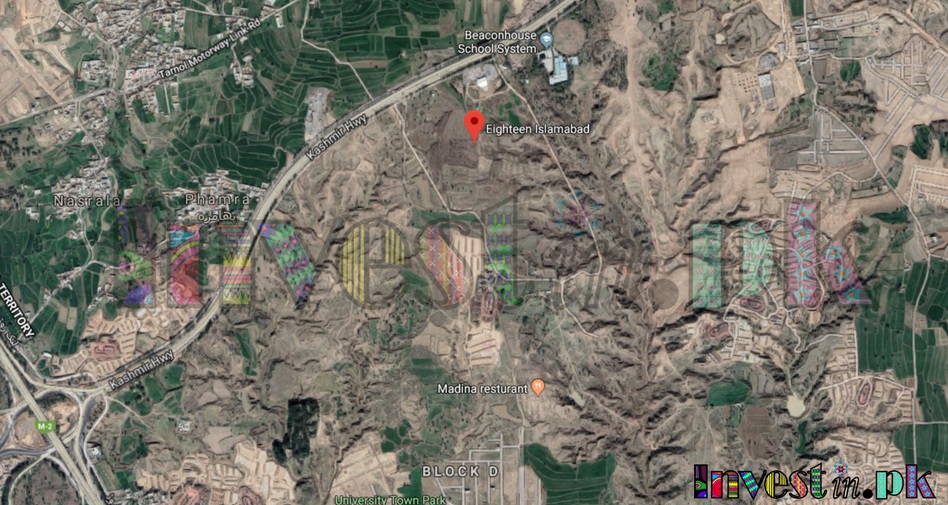 Eighteen Islamabad Master Plan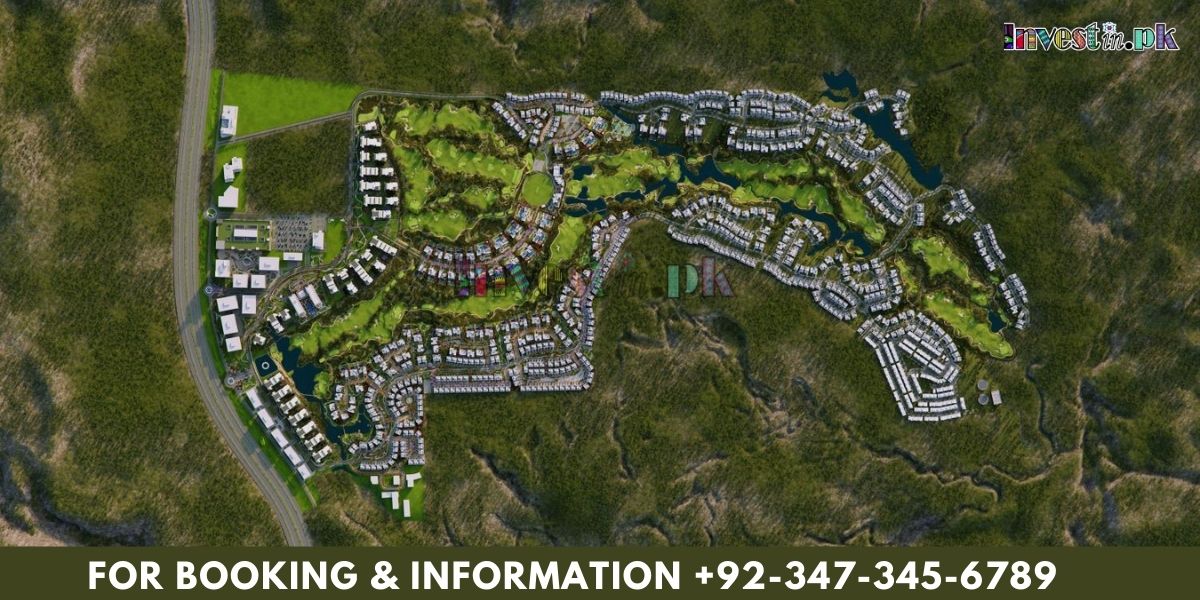 Eighteen Images
Eighteen Islamabad Contact Details