J7 Global is a Mega Commercial Project by the J7 Group offering Mega Shopping Mall and Luxury Hotel in the Heart of Mumtaz City, Islamabad.
J7 Global
J7 Global is a Mega Project by the Famous J7 Group in the capital city of Islamabad. This project offers a Mega Shopping Mall and a Luxury hotel in a single project. J7 Global offers commercial success with the utmost level of luxury and sophistication. With pre-launch, J7 offers a unique and lucrative investment opportunity and serene foresees from each part of the project, you will fall in love with the splendid view.
Being a Project of J7 group which is well known for its Exclusive Designs with Quality Workmanship and timely delivery of all their Projects. J7 Global promises to surpass all the expectations with the J7 Group's ultramodern resources, highly talented team, acclaimed punctuality, and quality work.
Some of the successful projects of J7 Group are:
A dream needs to be nourished with determination, hard work, courage, and willpower to transfer it into a 'Reality'.

A feel of luxury with your loved one. A project that you can trust to make your dreams come true.
J7 Global Location
J7 Global is ideally located in the capital city of Islamabad while offering easy convenience to all the major locations of the city. While being only 5 km away from the New International Airport so you don't have to concern yourself about the journey ahead and stay at ease and offering quick and timely reach to Main Downtown Islamabad via The Srinagar Highway (previously known as the Kashmir Highway). The motorway is just on the other side of the project that leads you into the city in no time.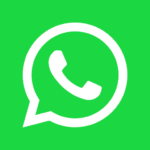 Nearest Locations
Motorway M1/M2 (2km)
Front Metro Bus Station
New Islamabad International Airport (2km)
Ring Road Station (2km)
CPEC (2km)
Zero Point Islamabad (15km)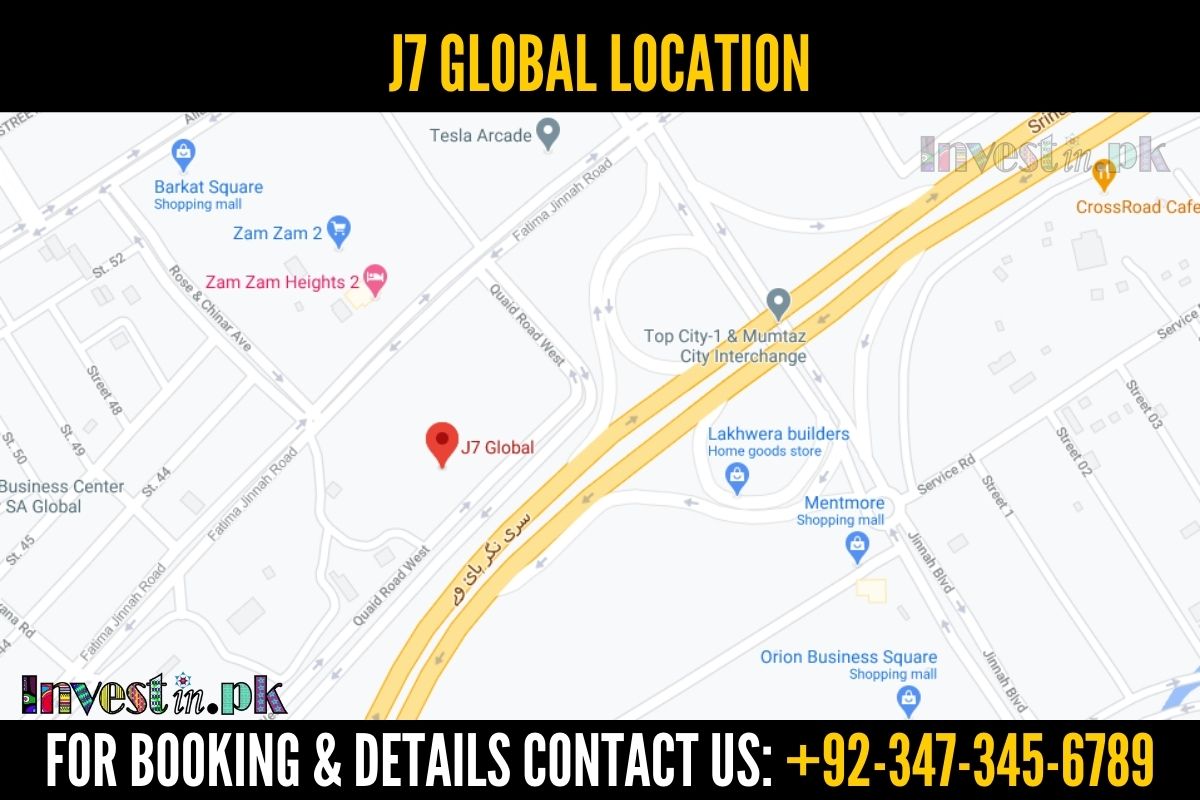 J7 Global Payment Plan
In J7 Global the rate per square foot is different on every floor. The rate per square foot of the units on the Ground Floor-A is Rs.58,000. On the ground floor of J7 Global, the rate per sq. ft. is 58,000. The rate per square foot of hotel suites is Rs.25,000 whereas the rate/sq. ft. of Food court units is Rs.55,000. Below we are sharing a detailed payment plan of J7 Global.
Hotel Suites: Rs.25,000
Food Court: Rs.55,000
Ground Floor: Rs.58,000
First Floor: Rs.53,000
Lower Ground Floor: Rs.53,000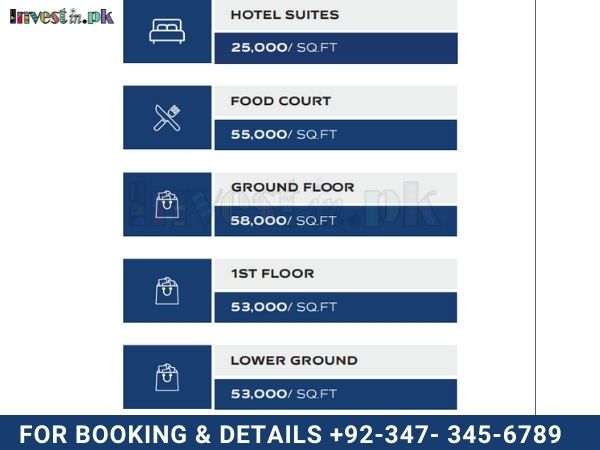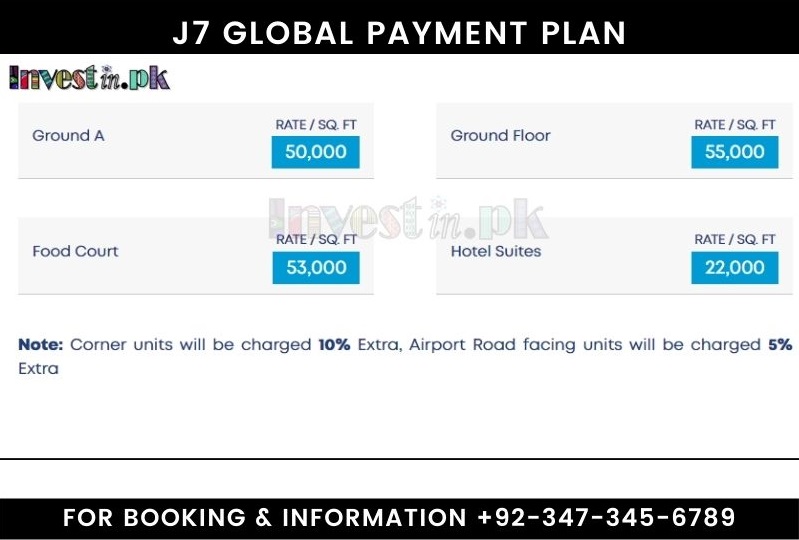 Extra Charges
Corner Unit: 10% extra charges
Airport Road Facing: 5% extra charges
Apartments In J7 Global
There are studio, 1 Bed, 2 Bed, and 3 Bed apartments in J7 Global available at an affordable payment plan. You can book your apartment by paying a 25% down payment and pay the remaining amount on 3-year easy installment plan.
Studio Apartments
Sizes: 550 sq. ft – 650 sq. ft
Rate Per Square Feet: Rs.25,000
One Bed Apartments
Sizes: 650 sq. ft – 750 sq. ft
Rate Per Square Feet: Rs.25,000
Two Bed Apartments
Sizes: 1400 sq. ft – 1550 sq. ft
Rate Per Square Feet: Rs.25,000
Three Bed Apartments
Sizes: 1900 sq. ft – 2100 sq. ft
Rate Per Square Feet: Rs.25,000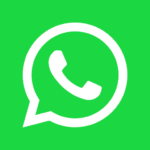 Features and Facilities.
J7 Global offers state-of-the-art features and facilities combined with mesmerizing views of the capital city and the natural beauty. A complete entertainment place, modern indoor gym, 3D Cinema so that you don't miss your favorite shows, and an ultra-lavish Outdoor swimming pool.
24/7 security and Surveillance
24/7 Backup power
Dedicated Car Parking for hotel residents
2 floors for smart car parking
Prime location
Easy installment plan
Hi-tech gym
Modern Building Architecture
Waste System
Gymnasium
Recreational Options
Maintenance Staff
Kid Play Area
Elevators
Lush Surroundings Nearby Places
Swimming Pool
J7 Global Master Plan
Mega Mall
J7 Global is a mega project while standing 18 floors. The project is accompassing 6 floors of Mall with lavishing shops while only the most exclusive brands both national and international and an exquisitely large food court. The mall offers a great platform accommodating all the walkways in both directions just like in the airport.
Luxury Hotel
Islamabad being the second most lust green capital in the world and the most beautiful city in Pakistan, there is always huge hustle and bustle of both national and international travelers from around the world. The luxury hotel is only a ten-minute drive away from the new international airport of Islamabad. J7 Global's Luxury Hotel enjoys an ideal location that enables it to conveniently serve visitors with the supreme serenity and opulence that it promises.
The surroundings of the hotel provide an exclusive suburban living experience. It is perfect for tourists looking to relax and away enough from the hustle and bustle of the city to offer tranquillity but at the same time, close enough to be easily accessible.
Floor Plan
J7 Global offers 6 floors of the mega luxurious mall with exclusive national and international brands offering a unique and exquisite shopping experience all under a single roof. 2 underground basements combined with multiple fast elevators and 2 dedicated mall entrances offer easy in and out of the mall. rest of the floors offer a luxurious hotel experience with corporate offices and much more.
Contact Details