Ideas tower Islamabad is one of the newest projects located in the CDA's sector B-17 while offering offers 1, 2, 3 and 4-bedroom luxury and spacious Apartments.
Ideas Tower Islamabad
Ideas Tower Islamabad is one of the newest projects located in CDA's Sector B-17 Islamabad. This project is already approved by the Multi Professionals Co-operative Housing Society (MPCHS). B17 Islamabad is becoming the new property hub of Islamabad, with its ongoing development. It offers 1, 2, 3, and 4 bedrooms Luxury Apartments. Ensuring to meet the requirements of the most in Ideas Tower. This project is located at a very ideal location adjacent to the main GT Road, with easy access to M-2 Motorway and Islamabad International Airport.
Ideas Tower Islamabad is being Developed by the Banu Hashim Builders & Developers while providing the best amenities and offers extraordinary appreciation worth. The delight of living at this marvellous residence, offering Convenience at very affordable rates with a large urban environment.
Ideas Tower Location
Ideas Tower Islamabad is located at one of the most prominent and well-selected locations in Islamabad. This project is situated near the Entrance of B17 sector Islamabad while at very easy accessibility to the Main Downtown Islamabad, M1 and M2 Motorways and CPEC Motorway Interchange is also adjacent to the location of this venture. The Islamabad International Airport is also closely available alternatively increasing the value and demand of this venture. Sector B-17 Islamabad is being developed at a very fast pace and more and more accomplishments are planned for the future here.
Multi Gardens and Magnum Mall can be accessed by a drive of 3 minutes and the Capital square shopping mall can be approached with a drive of 5 minutes while coming from Malik Maqsood Avenue.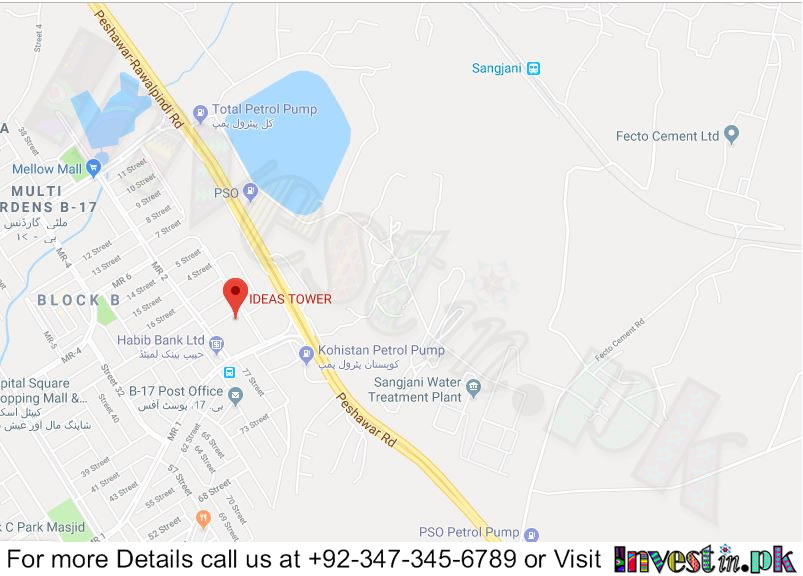 Ideas Tower Payment Plan
The payment method of Ideas Tower Islamabad is very customer friendly and very convenient. The minimum monthly instalment starts from 32,000 PKR. The payment schedule consists of 25% initial Down Payment, 10 % possession charges at the time of ownership, 65% instalments divided into 4 years quarterly 16 instalments.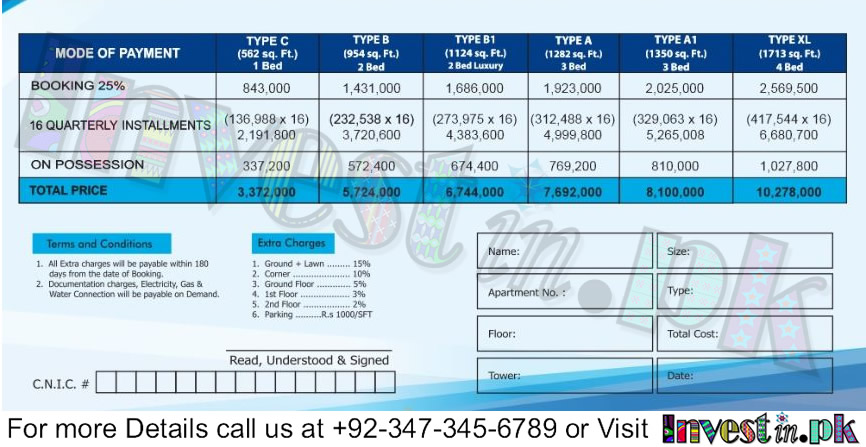 Salient features:
Prime location
24/7 CCTV surveillance
Easy instalment plan
24/7 departmental store
Hi-tech gym
Spa
Modern Building Architecture
Deluxe and Spacious Apartments
Security Surveillance
Spacious Parking space
Waste System
Gymnasium
Recreational Options
Maintenance Staff
Meeting Room
Kid Play Area
Elevators
Lush Surroundings Nearby Places
Swimming Pool
Roof-top restaurant
Ideas Tower Master Plan
The Ideas Tower is being developed on a more than 10,000 sq.ft plot in the heart of Sector B-17 Islamabad. The location of the project is very ideal and prime in nature. The height of the tower will be 10 stories above the ground with state of the art facilities and modern amenities to fulfil the luxury living experience.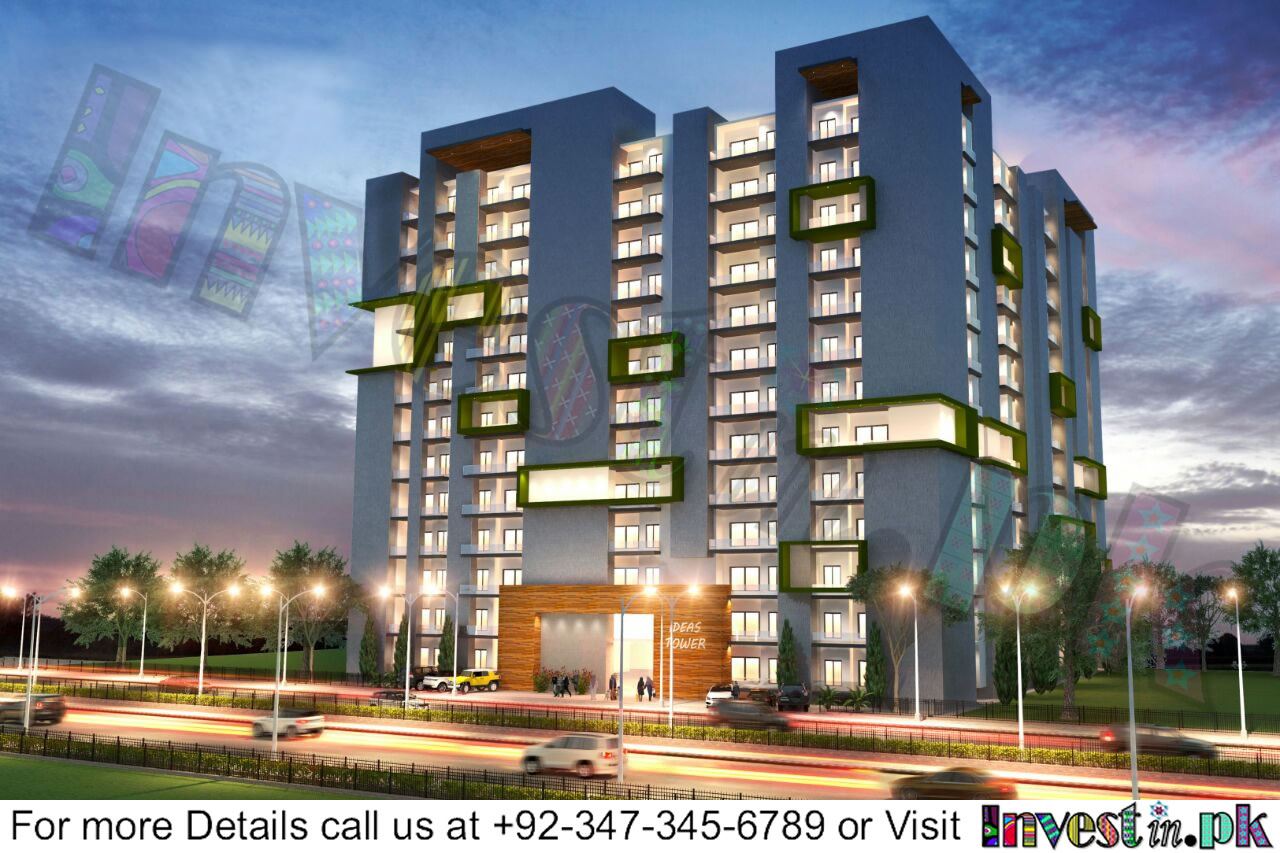 Floor Plan
Ideas Tower Islamabad consists of 10 luxurious apartment floors offering 1,2,3 and 4 bedroom apartments. The apartments offer modern living luxuries and fully loaded with all the amenities.
There is a total of 6 types of Apartments with different floor maps and sizes.
Type-A Luxury Apartments Super Luxury Apartment (3 Beds)
Type-A1 Luxury Apartments Corner Luxury Apartment (3 Beds)
Type-B Luxury Apartments Luxury Apartment (2 Beds)
Type-B1 Super Apartments Super Luxury Apartment (2 Beds)
Type-C Apartments Studio Apartment (1 Bed)
Type-XL Luxury Apartments XL Luxury Apartment (4 Beds)
| | | |
| --- | --- | --- |
| Apartment type | Bedrooms | Size Sq.ft |
| A | 3 | 1282 |
| A1 | 3 | 1350 |
| B | 2 | 954 |
| B1 | 2 | 1124 |
| C | 1 | 562 |
| XL | 4 | 1713 |
Contact
For more details please call us at
+92-347-345-67-89