First time in Pakistan's history, the State Bank of Pakistan introduced Roshan Apna Ghar Scheme, a platform that enables Non Resident Pakistanis and POC holders to buy, build, or renovate a house in Pakistan through their own investment or bank financing.
For a period of three to twenty five years, conventional and Shariah compliant financing is available at very attractive rates. Due to the end-to-end digital process and simplified mechanism, obtaining housing finance or investing in Pakistan's real estate sector is a convenient and fast process for overseas Pakistanis.
Roshan Apna Ghar Scheme
Non-Resident Pakistanis wishing to invest or obtain housing financing in pre-approved projects will have their request for investment or financing processed even faster. RDAs permit investors to make fully repatriable investments in Pakistan, subject to full and final taxation.
Directly Purchase a Property in Pakistan
The Roshan Digital Account of RDA participating banks allows non-resident Pakistanis to purchase a property with their own funds. Investors simply need to choose a property, deposit their title documents, and nominate someone in Pakistan to complete the sale or purchase and transfer formalities so that the property is transferred into their name. Payment will be made to the seller or beneficiary after the bank has valued the property and screened the seller.
Avail Free property insurance
According to the rules of the scheme Until the amount of the loan is repaid, the property is insured free of charge. In addition, select banks offer free credit risk coverage up to the outstanding amount of financing.
How to apply for Roshan Apna Ghar Scheme?
Step 1: First of all register your Roshan Digital Account, and then login to your account
Step 2: Select Apply for Roshan Apna Ghar from RDA webpage of your bank.
Step 3: Choose the option that suites you from "Bank Financing", "Self-Financing", or "Off-Plan Financing".
Step 4: After selecting the suitable option,
i) In case you choose Bank Financing, choose 'Non-Lien Financing' or 'Lien Financing'.
ii) In case you choose Self-Financing choose 'Property of my choice' or select from 'Bank's pre-approved projects'.
iii) In case of Off-Plan Financing, select from Banks pre-approved projects.
Step 5: After selecting all the options provide your personal information, property information, and attach scanned copies of your documents.
Step 6: Agree to Terms & Conditions and SUBMIT your application.
The types of products offered by Roshan Apna Ghar Finance?
The finance is available under the following three product types:
Standard bank Financing
Financing under Government Markup/Profit Subsidy Scheme (GMSS/GPSS)
Off-Plan Financing (for purchasing housing units in under-construction projects
appearing in pre-approved list on the banks' website).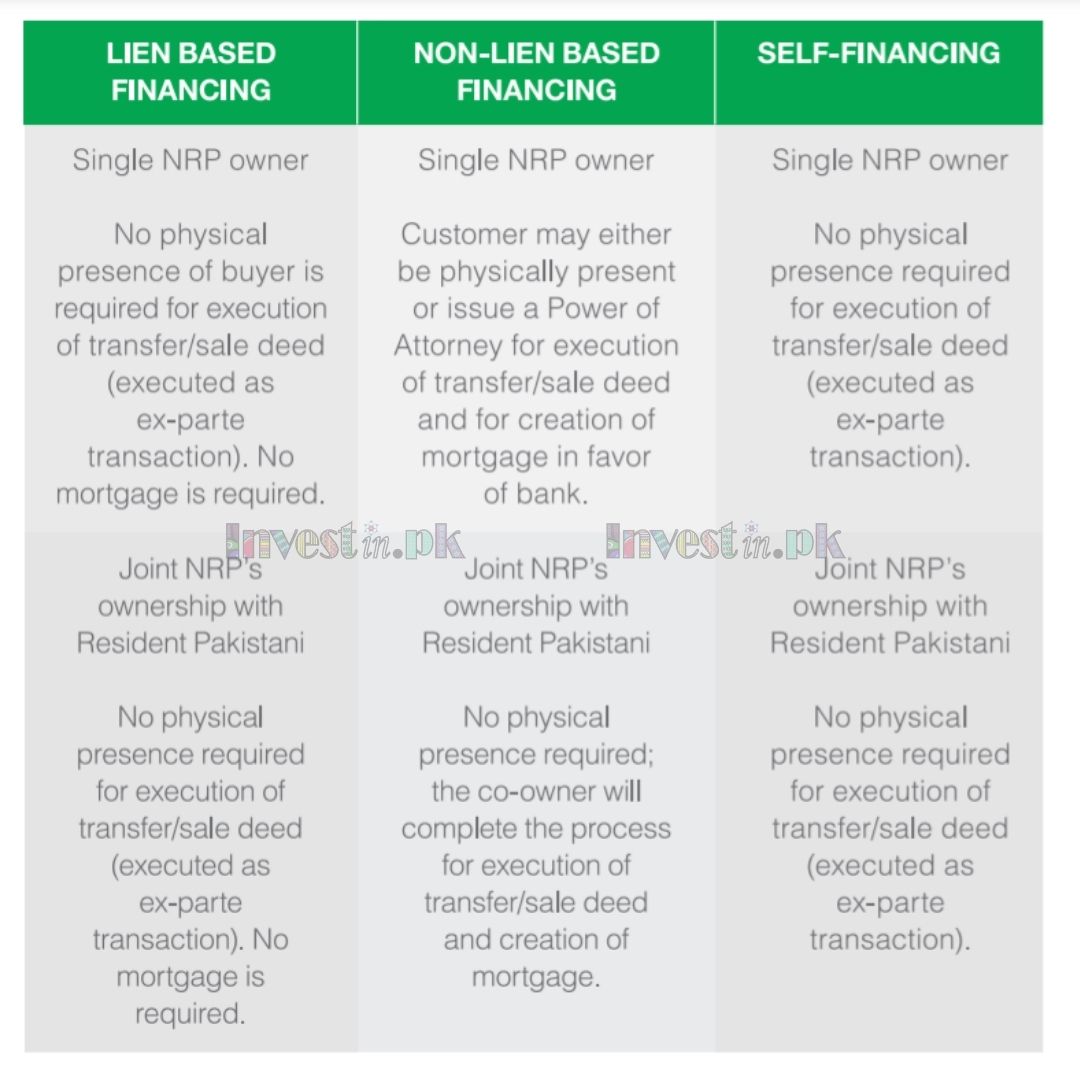 List of Banks offering Roshan Apna Ghar Scheme
Bank Alfalah
Al-Habib Bank
Bank of Punjab (BOP)
Dubai Islamic Bank
Faysal Bank
Habib Bank Limited (HBL)
Habib Metro Bank
Muslim Commercial Bank (MCB)
Standard Chartered Bank
United Bank Limited (UBL)