Graceland Homes Islamabad
Graceland Homes Islamabad is located at main Fateh Jang Road. This is the latest housing project in Islamabad offering state of the art well-planned and well-developed houses. The project is only few minutes drive away from New Islamabad Airport, Kashmir Highway & Islamabad – Lahore Motorway.
Features & Facilities
State-of-the-art planning & Designing
Underground electricity
Fully carpeted wide roads
Sewerage System
24/7 Security
Clean Water
Storm water drainage system
Commercial areas
State of the art security system
Latest Water supply system
Ample Parking facilities
Green Belts
School
Parks
Children Play Area
Mosque
Boundary Wall
College
Hospital
Shopping mall
Golf course
Project Details & Payment Plan
Graceland Homes Islamabad is the latest housing scheme in Islamabad. With state of the art features and facilities they are offering 3 Bedroom 5 Marla ( 25*50 feet ) House & 4 Bed 8 Marla ( 30*60 feet ) House.
There are Two Types of 5 Marla House Economy & Deluxe & Two Types of 8 Marla House Economy & Deluxe.
5 Marla House Economy
Location: Sector A & B
Plot Size: 138 Sq Yard ( 25 * 50 Ft)
Covered Area: 1946 Sq Ft

3 Bedrooms

3 Bathrooms

2 Lounges

1 Drawing

1 Porch


1 Kitchen

1 Front Lawn

1 Back Lawn
Payment Plan
Price starts at: Rs. 78 Lakh
Down payment(30%): Rs. 24 Lakh
18 Monthly Installments: Rs 3 Lakh (Price is bound to go UP once the soft launch is over.)
5 Marla House Deluxe
Location: Sector A & B
Plot Size: 138 Sq Yard ( 25 * 50  Ft)
Covered Area: 2290 Sq Ft

3 Bedrooms

3 Bathrooms

2 Lounges

1 Drawing

1 Porch

1 Kitchen

1 Front Lawn

1 Back Lawn
Payment Plan
Price starts at: Rs. 88 Lakh
Down-payment(30%): Rs. 25 Lakh
18 Monthly Installments: Rs 3.5 Lakh (Price is bound to go UP once the soft launch is over.)
8 Marla House Economy
Location: Sector A & B
Plot Size: 200 Sq Yard ( 30 * 60 Ft)
Covered Area: 2643 Sq Ft

4 Bedrooms

5 Bathrooms

2 Lounges

1 Drawing

1 Porch

1 Kitchen

1 Front Lawn

1 Back Lawn
Payment Plan
Price starts at: Rs. 1 Crore 3 Lakh
Down-payment(30%): Rs. 31 Lakh
18 Monthly Installments: Rs 4 Lakh (Price is bound to go UP once the soft launch is over.)
8 Marla House Deluxe
Location: Sector A & B
Plot Size: 200 Sq Yard ( 30 * 60 Ft)
Covered Area: 3030 Sq Ft

4 Bedrooms

5 Bathrooms

2 Lounges

1 Drawing

1 Mumty
1 Porch
1 Kitchen
1 Front Lawn
1 Back Lawn
Payment Plan
Price starts at: Rs. 1 Crore 17 Lakh
Down-payment(30%): Rs. 36 Lakh
18 Monthly Installments: Rs 4.5 Lakh (Price is bound to go UP once the soft launch is over.)
Graceland Homes Master Plan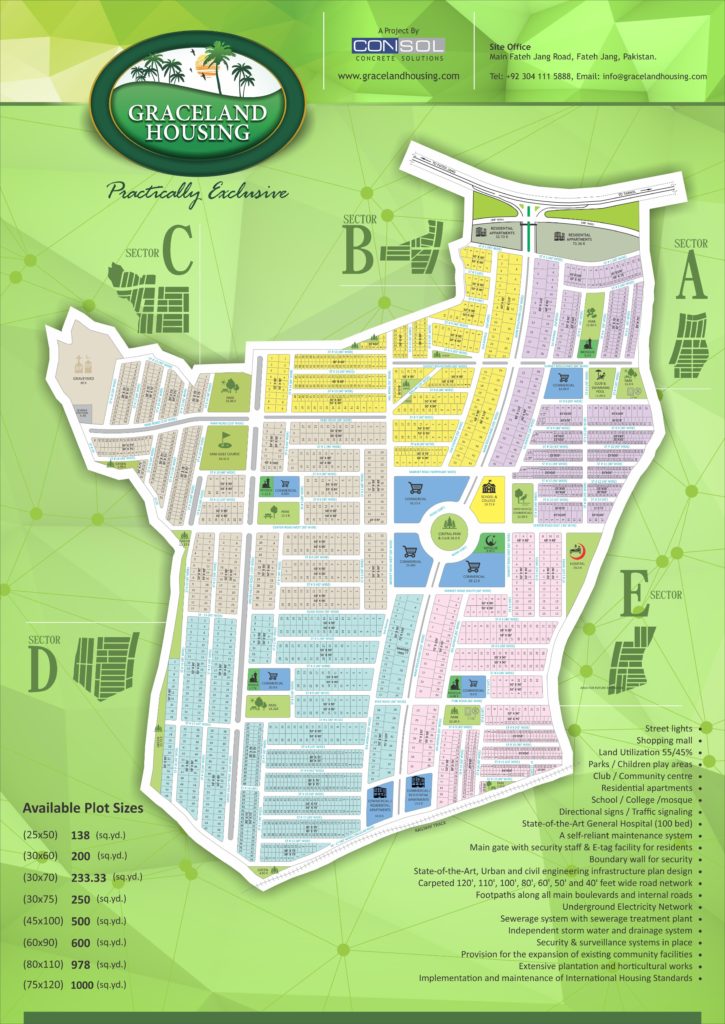 For Booking & Details Contact
Rizwan Ali (Senior Sales Manager)

Direct/IMO/Whats-app: +923077773356