Yoon Mall & Apartments is a commercial/residential project located in B-17 Islamabad. The project is offering well-planned modern shops and apartments at affordable rates.
Yoon Mall & Apartments Islamabad
The developers are aiming to make this project ideal for both residential and business purposes. The project will be equipped with state-of-the-art features and facilities. Because of its prime location the investors are showing a good interest in investing in this modern real estate project.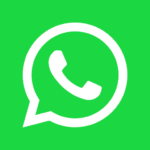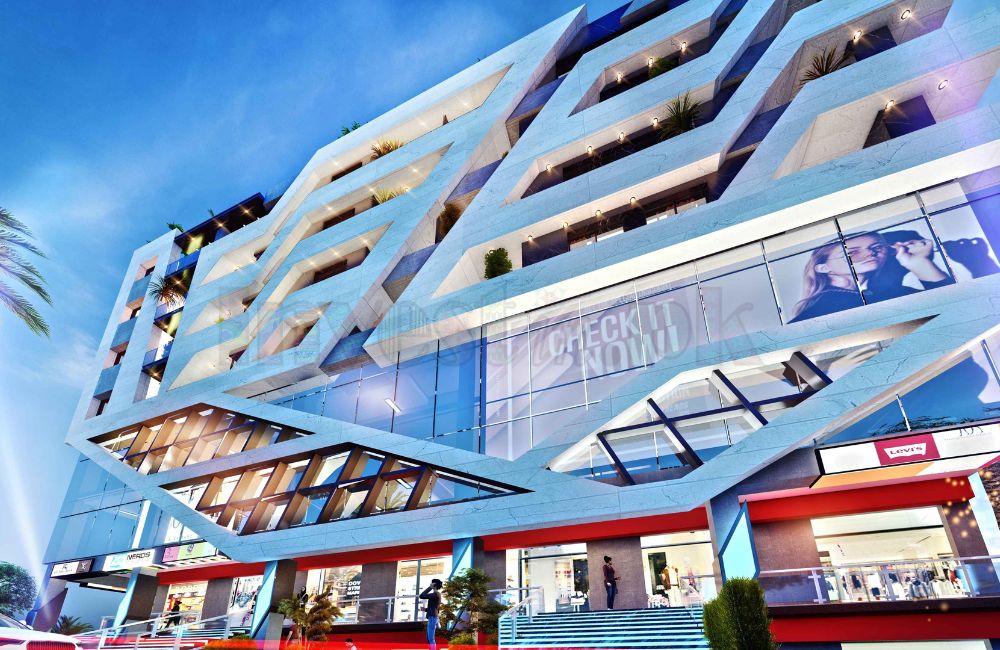 Location
The project is ideally located in Faisal Margalla city B17 Islamabad and has close access to Grand Trunk Road & M1/M2 Motorway. All the nearby areas of Rawalpindi & Islamabad can be reached within a 10-15 minutes drive.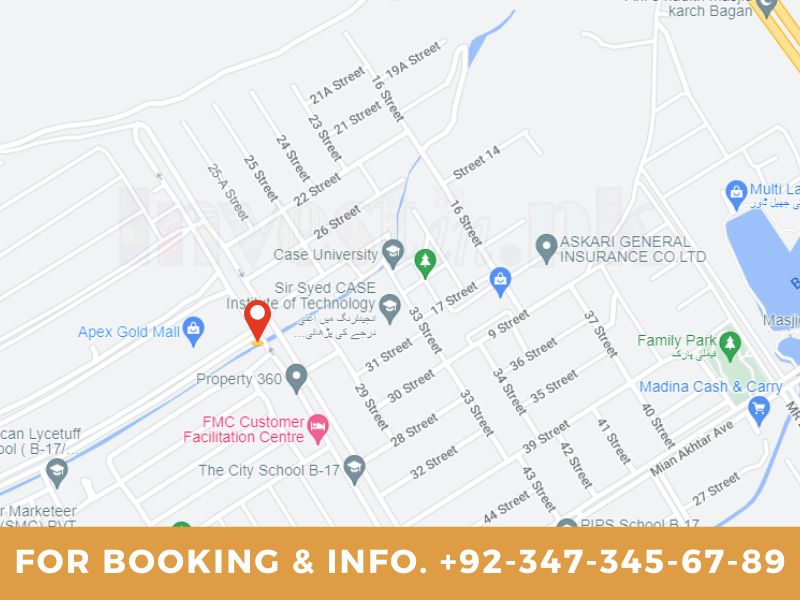 Yoon Mall & Apartments Payment Plan
The residential apartments are available in 1-Bed, 2-Bed, and 3-bedroom sizes. You can book the unit by paying a small down payment and the remaining amount can be paid in 33 monthly installments. Below we are sharing a detailed Yoon Mall payment plan.
Apartments Types
1 Bedroom (Economy)
2 Bedroom (Economy)
1 Bedroom (Executive)
2 Bedroom (Executive)
3 Bedroom (Executive)
Unit Size & Type: 3 Bed (Type A)
Total Price (PKR): 20,263,500
33 Monthly Installments (PKR): 202,635
5 Half Yerly Installments (PKR): 1,215,810
On Possession (PKR): 1,418,445
Confirmation (PKR): 2,026,350
Allocation (PKR): 2,026,350
Booking (PKR): 2,026,350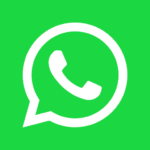 Unit Size & Type: 2 Bed (Type B)
Total Price (PKR): 9,110,500
33 Monthly Installments (PKR): 91,105
5 Half Yerly Installments (PKR): 546,630
On Possession (PKR): 637,735
Confirmation (PKR): 911,050
Allocation (PKR): 911,050
Booking (PKR): 911,050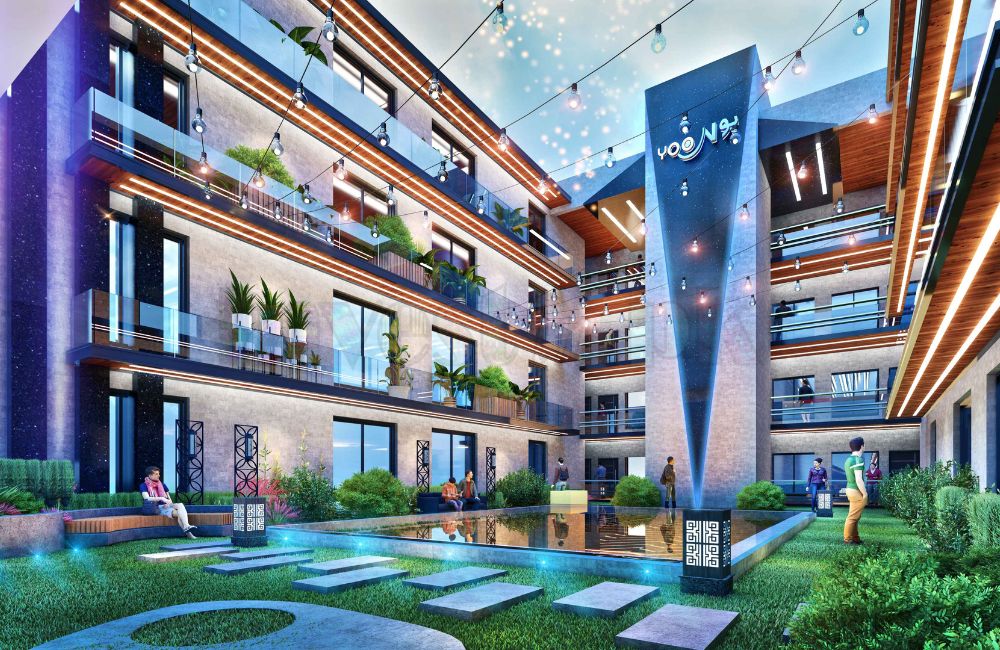 Unit Size & Type: 2 Bed (Type B1)
Total Price (PKR): 12,502,000
33 Monthly Installments (PKR): 125,020
5 Half Yerly Installments (PKR): 750,120
On Possession (PKR): 875,140
Confirmation (PKR): 1,250,200
Allocation (PKR): 1,250,200
Booking (PKR): 1,250,200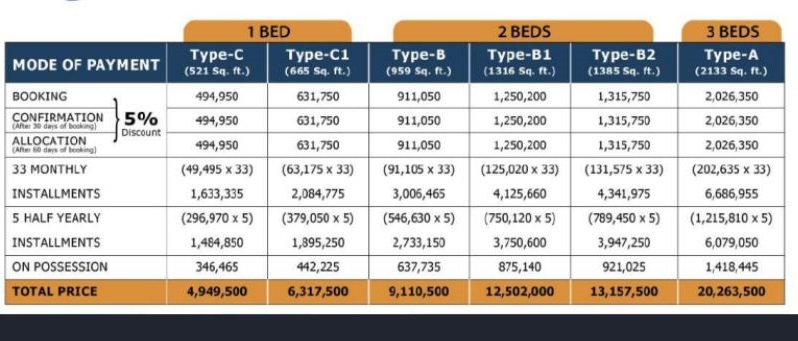 Unit Size & Type: 2 Bed (Type B2)
Total Price (PKR): 13,157,500
33 Monthly Installments (PKR): 131,575
5 Half Yerly Installments (PKR): 789,450
On Possession (PKR): 921,025
Confirmation (PKR): 1,315,750
Allocation (PKR): 1,315,750
Booking (PKR): 1,315,750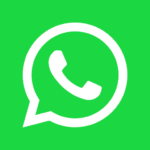 Unit Size & Type: 1 Bed (Type C)
Total Price (PKR): 4,949,500
33 Monthly Installments (PKR): 49,495
5 Half Yerly Installments (PKR): 296,970
On Possession (PKR): 346,465
Confirmation (PKR): 494,950
Allocation (PKR): 494,950
Booking (PKR): 494,950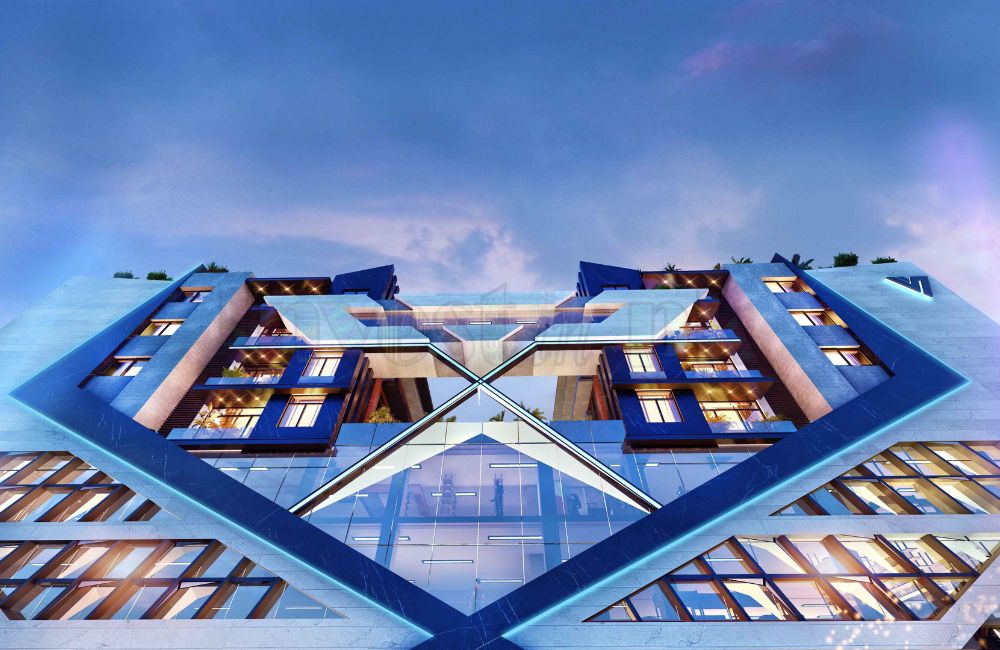 Unit Size & Type: 1 Bed (Type C1)
Total Price (PKR): 6,317,500
33 Monthly Installments (PKR): 63,175
5 Half Yerly Installments (PKR): 379,050
On Possession (PKR): 346,465
Confirmation (PKR): 631,750
Allocation (PKR): 631,750
Booking (PKR): 631,750
Features & Facilities
Gated Community
Well-planned Layout
Earthquake Resistant Structure
Electricity Backup
Underground Car Parking
Fire Fighting System
Prayer Areas
Intercom Facility
Reception
Lobby
Modern Elevators
High-quality Tiles, fittings, and finishes
Nearby Schools, colleges, and universities
Nearby Hospitals, Banks
Contact Details