Riverwalk Islamabad Overview
Living beside a scenic river was perhaps an unattainable dream that you never thought you would be able to afford. However, Riverwalk converts this impossible dream to reality by providing a perfectly constructed apartment building on Islamabad Expressway (signal free corridor) and along the Soan River equipped with all the requirements of a contemporary lifestyle!
The prestigious project has been developed by the renowned Ace Group, a real estate construction company who has achieved immense success over the years. Due to its longstanding experience, robust commitment, dedication to hard work, and highly innovative solutions, Ace Group is now a distinguished real estate developer constructing awe-inspiring structures in the federal capital. The company's previous projects include Ace Homes, Ace Uptown, Ace Venture, and Ace Avenue amongst other amazing projects!
This impressive apartment project proudly stands five-storeys high and provides a panoramic view of lush green parks and the rolling tides of the Soan River. Situated in the picturesque federal capital, Riverwalk offers a highly sophisticated and ideal living experience, truly living up to the claim of providing an enviable lifestyle!
Location:
Out of all of the amazing factors making Riverwalk the perfect investment and residential choice, location is of prime importance. The elegant apartment building is located in Islamabad and accordingly provides residents with irrefutable benefits of living in a cultured global city. The federal Capital is equipped with modern infrastructure, direct access to the China-Pakistan Economic Corridor, exceptional health, education, and tourism facilities; Islamabad is the best place for residence and/or real estate investment!
A city housing the country's most erudite personalities, the federal capital truly provides an enviable residential experience that cannot be found elsewhere in Pakistan. As the most diverse metropolis in the country, Islamabad offers versatility, amazing tourism and recreational activities, and tremendous investment opportunities promising lucrative returns. A city bubbling with potential and some of the most awe-inspiring real estate projects, Islamabad is now ready to host another enthralling residential and investment opportunity: Riverwalk!
Riverwalk is ideally located on the Kahuta Road Interchange (Soan River Bridge) overlooking the Soan river. This project is on the Islamabad Expressway and merely 5 km away from the Koral Interchange/Airport Chowk.
This beautiful apartment building is a short 5-minute drive from prominent housing societies such as DHA-2 and Bahria Town Islamabad. Riverwalk is definitely perfectly situated to become an illustrious residential and investment opportunity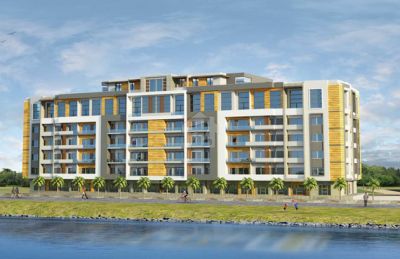 Facilities and Amenities:
The beautifully designed apartment building does not only offer a sensational view but also offers outstanding facilities and amenities providing for a highly exquisite lifestyle. Encircled by a gorgeously landscaped riverside walking track complete with a barbeque area, Riverwalk opens up to a spacious lobby decorated with all the niceties to welcome residents and guests. The building offers a separate rooftop space for family events, is in the vicinity of a children's playground, lush green parks, and has a state-of-the art gymnasium and top class healthcare facility.
Equipped with 24/7 power backup for individual apartments and key areas of the building, video surveillance of parking and entrance areas from each apartment, and round-the-clock security provision, every detail is catered to at Riverwalk! Each apartment is assigned a car parking slot and a car valet service is available to promote comfort and convenience for residents.
Rivalling international standards, this extraordinary project offers the following list of Features and Facilities:
Gorgeously landscaped riverside walking track.
Spacious entrance lobby
Rooftop space for family events
State of the art gymnasium
Purpose built healthcare facility
Individual electricity backup for every residence
Video surveillance of parking and entrance areas from each apartment
24/7 security
Car parking area
Car valet service
Outdoor terraces

Riverwalk provides a breathtaking panoramic view of lush green parks and the marvelous Soan River and also allows residents to enjoy the beauty and serene aura of the waterfront up close while walking along the riverside walking track. The absolutely splendid opportunity to wake up to the sound of the waves and the refreshing sight of the overlapping currents while also making the most of the opportunity of enjoying glorious sunsets along the Soan River cannot be emphasised enough!

Apartment Options:
Riverwalk offers amazing apartment units and buyers have the option of 2- and 3-bedroom exquisitely designed apartments and 5-bedroom duplex double-storey penthouses. Each of the apartments is facilitated with an expansive terrace allowing residents to delight in a comfortable interior and enjoy the ecstasy and thrill of stepping outdoors and relishing the sight of the Soan River.
The spacious 2-and 3-bedroom apartments include a welcoming lobby area, grand dining/drawing rooms, a well-equipped kitchen, and a relaxing lounge area. The 5-bedroom penthouses elicit exemplary grandeur and an extraordinary view of the glorious Soan River. Besides a roomy lobby, elegant drawing/dining room, perfectly constructed kitchen, a comfortable living area, and 5-bedrooms, the penthouse also includes a dedicated area as living quarters for the domestic help!
The most attractive part of the deal is that all of this unimaginable opulence and alluring ambiance is available for a very reasonable price! The apartments can also be purchased via a very convenient installment plan, maximising affordability and providing nothing less than what dreams are made of!
Furthermore, the project is exclusively marketed by Zameen.com, which means that investors and potential residents are guaranteed a hassle-free experience. The project offers a completely transparent investment opportunity, is developing at a commendable pace, and is approved by the Capital Development Authority along with other bodies such as WASA and EPA.
This is a once in a lifetime opportunity! Make the most of it and book your gorgeous apartment now or get in touch with us for further details!