Al Jalil Garden is the latest housing scheme in lahore located on Main Sharaqpur Road near Faizpur Interchange. Because if its prime location this project is ideal for investment and living.
Al Jalil Garden Housing Scheme
Al Jalil Garden Lahore is surrounded by all the well-known roads, schools, hospitals, and many other famous locations of Lahore. The location is easily accessible from all areas of Lahore because the location is connected to Motorway M2.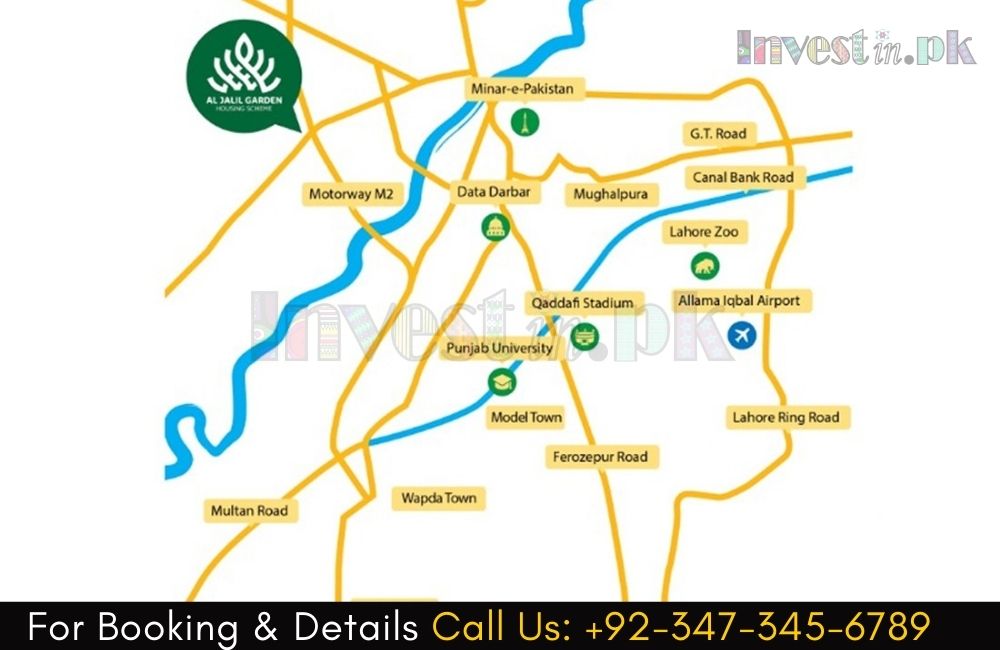 Nearest Locations:
Motorway M2
Data Darbar
Minar-e-Pakistan
G.T Road
Mughalpura Lahore
Lahore Zoo
Punjab University
Model Town
This huge housing project is divided into different sectors named as
A,B,C,D,E,F,G,H,I,J,K,L,M,N,P. In these sectors different sizes of plots are available.
Residential plots in Al Jalil Garden are available in different sizes at an affordable payment plan. Below we are sharing a list of all the available plot sizes
3 Marla
4 Marla
5 Marla
6 Marla
7 Marla
8 Marla
9 Marla
10 Marla
1 Kanal
Commercial Plots in Al Jalil Garden are also available in different sizes.
Payment Plan
Below we are sharing a detailed Al Jalil Garden Payment Plan. For more details and booking feel free to contact us.
03 Years Payment Plan for Residential
| | | | | | | |
| --- | --- | --- | --- | --- | --- | --- |
| Plot Size | Total Price | Booking | Confirmation | Possession | Half Yearly | Monthly |
| 03 – Marla | 1,650,000 | 200,000 | 200,000 | 200,000 | 85,000 | 15,000 |
| 05 – Marla | 2,500,000 | 300,000 | 300,000 | 300,000 | 116,666 | 25,000 |
| 10-11 – Marla | 4,550,000 | 550,000 | 550,000 | 550,000 | 213,333 | 45,000 |
03 Years Payment Plan (B-Block)
| | | | | | | |
| --- | --- | --- | --- | --- | --- | --- |
| Rate / Marla | Plot Size | Total Price | Booking 20% | Balance Amount | Monthly Installment (30) | Half Yearly (6) |
| 650,000 | 05 – Marla | 3,250,000 | 650,000 | 2,600,000 | 36,500 | 250,000 |
| 550,000 | 10-11 Marla | 5,560,500 | 1,100,000 | 4,460,500 | 62,500 | 430,000* |
03 Years Payment Plan (C-Block)
| | | | | | | |
| --- | --- | --- | --- | --- | --- | --- |
| Rate / Marla | Plot Size | Total Price | Booking 20% | Balance Amount | Monthly Installment (30) | Half Yearly (6) |
| 600,000 | 05 – Marla | 3,000,000 | 600,000 | 2,400,000 | 33,500 | 232,000* |
| 525,000 | 10-11 -Marla | 5,307,750 | 1,050,000 | 4,257,750 | 60,500 | 400,000* |
03 Years Payment Plan (D-Block)
| | | | | | | |
| --- | --- | --- | --- | --- | --- | --- |
| Rate / Marla | Plot Size | Total Price | Booking 20% | Balance Amount | Monthly Installment (30) | Half Yearly (6) |
| 600,000 | 05 – Marla | 3,000,000 | 600,000 | 2,400,000 | 33,500 | 232,000 |
| 525,000 | 08 – Marla | 4,200,000 | 840,000 | 3,360,000 | 44,000 | 365,000 |
| 525,000 | 10-11 – Marla | 5,307,750 | 1,050,000 | 4,257,750 | 60,500 | 400,000* |
03 Years Payment Plan (P-Block)
| | | | | | | |
| --- | --- | --- | --- | --- | --- | --- |
| Rate / Marla | Plot Size | Total Price | Booking 20% | Balance Amount | Monthly Installment (30) | Half Yearly (6) |
| 500,000 | 10-11 – Marla | 5,055,000 | 1,011,000 | 4,044,000 | 50,500 | 421,500 |
03 Years Payment Plan (G, H, J – Block)
Rate / Marla
Plot Size
Total Price
Booking 20%
Balance Amount
Monthly Installment (33)
Half Yearly (6)
575,000
10-11 – Marla
5,813,250
1,162,650
4,650,600
58,100
484,600
550,000
20 – Marla
(80′ Road)
11,000,000
2,200,000
8,800,000
110,000
915,000
Master Plan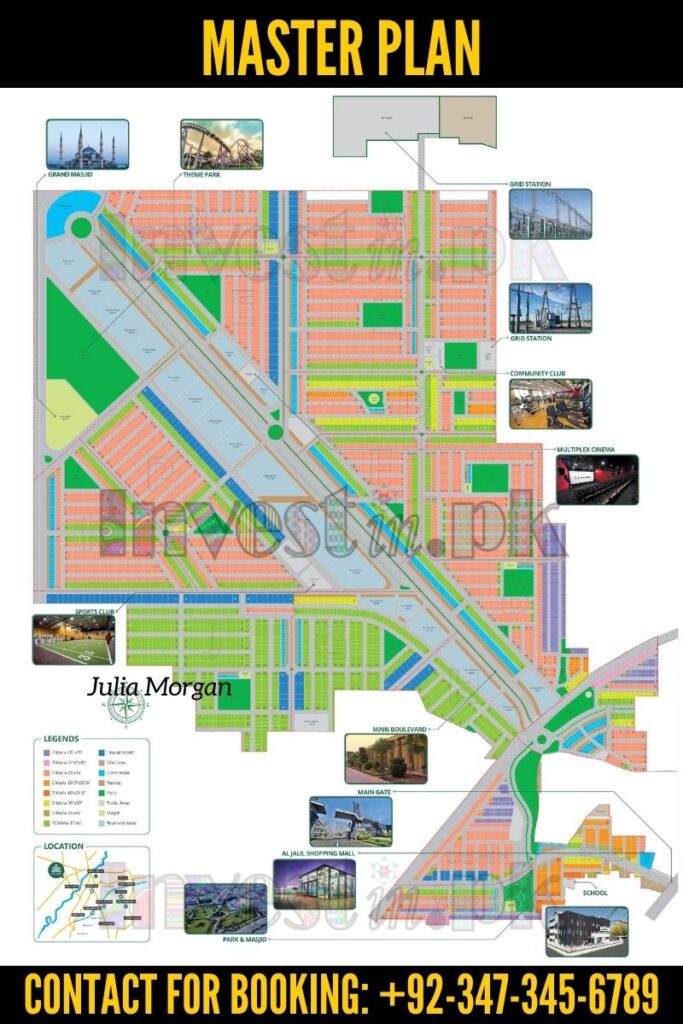 Contact Details