Overview
Al Khalil IT Tower Islamabad is the leading and impressive commercial IT Hub of Bahria Town, DHA & Surroundings. It comprises of 4.5 kanal with 9 stories in which there are two basements for parking. It is in the Heart of BT on main gateway bahria expressway Islamabad.
Introduction
Al Khalil IT Tower Islamabad is a grand project. Elegance experience of shopping and business with the class of environment. It will be the IT Skyline in Bahria Town.Al Khalil IT Tower, Islamabad is in the span of different IT business-oriented zones, in this manner setting it in a key position to arrange and perform a wide range of hardware, software Telecommunication, Accessories and its trade exercises. This undertaking will soon turn into the most effective and business networking IT complex in the BAHRIA.We provide a platform for electric & IT hub market under one roof.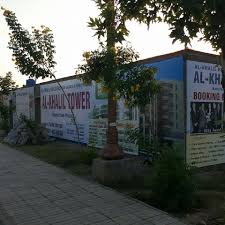 Al Khalil IT Tower Islamabad About Developers
Project Developer I
(Al-Khalil Builders)
Al-Khalil builders have been a prestigious real state developmental firm that has delivered projects with dedication and precision. It is a registered construction and real estate company, they have managed to achieve some important projects with the help of blessings of Allah almighty. From the last 12 years, they have succeeded in constructing more than 100 Houses / Villas in DHA and Bahria Town.
Builders Success Stories
Previous projects of Al-Khalil Builders
Ishar Heights (wallayat complex)
Rabi 1 plaza
Midway commercial
Hamza Arcade
Corber Plaza
Project Developer II
International Housing Bahria
International Housing is a well-known real estate consultant & developer since early 1970's.
Large no. of housing & commercial projects have been developed under its umbrella. It is one of the pioneer companies in this field in the town
Builders Success Stories
Previous projects of International Housing Bahria
Al Amin Plaza (Mall Road Saddar)
Arshad Plaza
Gulberg Town (Adyala Road)
Afshan Plaza
Faisal Shaheed Colony
Al Madina commercial (Faisalabad)
Liaqat Colony
Al Khalil IT Tower Islamabad Features
Prime Location
Complete Security System
 Complete IT Market
Guaranteed Possession in 2.5 years
Biggest Electric Complex in Twin City
Only Electronic Market in BAHRIA and DHA
Bahria Approved
Secure Investment
Electronic Hub
High Speed Internet
1st Biggest IT Centre (BT)
Ideal Location
Best Elevation
Quality of Construction
Ample Corridors
High Speed Lifts
CCTV Cameras
24/7 Security
DHA & Safari Villas
Mosque
Golf Club
McDonald's
Fuel Station
Commercial Area
Green Valley
Gateway to valley
Gloria Jeans
Hospital, Cardiology center
School & colleges
Entertainment & club
Al Khalil IT Tower Islamabad Location Map

Al Khalil IT Tower Islamabad Project Architects
SAREMCO Sketches
SAREMCO Sketches provides clients with the most comprehensive set of end-to-end planning, architectural and creative services available in the architecture & design industry.We follow the best practices and latest design standards to deliver the best in every project that reaches our table. Great architecture rooted in smart planning and urban design, we take that model to the next level with services like interior design and associate services.
Al Khalil IT Tower Islamabad Marketing Consultants
Fast Marketing Consultants (Pvt.) Ltd.
Over the period of last decade, Fast Marketing Consultants (Pvt.) Ltd. has got its recognition as a well-established Mega Real Estate Sales & Marketing Company of Pakistan. Providing end-to-end solution in the mentioned sector of the said industry. Being a team of dedicated professionals, Fast Marketing Consultants (Pvt.) Ltd. services include but not limited to. The Pivotal Role: In fact we take full charge of your Real Estate Project for its successful presentation in the general public resulting quick sales revenue generation, project successful delivery and uplift of developer/builder profile in the market for his current and any upcoming projects.
Al Khalil IT Tower Islamabad Payment Plan

Note
Booking on 15 %
Confirmation on 10%
60% in 48 Monthly OR
16 Quarterly Instalments
On Possession 15 %
Al Khalil IT Tower Islamabad Contact Details
Site Office
Main Express way, Commercial Phase VII, Bahria Town, Islamabad
Phone:  +92-341-111-8555, +92-341-111-8666, +92-341-111-8777
Email Address:  alkhaliltower@fastmarketingonline.com