Overview
AYKON City is a unique lifestyle concept – an entire city set within the magnificent metropolis of Dubai. Located in the Golden Quadrant on Dubai Canal and Sheikh Zayed Road, the development will be a new architectural icon. From here, the city's attractions are all just moments away and it's very easy to get around, whether it's by car, metro or water taxi.

Design
Taking its architectural inspiration from the regional landscape's undulating sanddunes and the glittering quartz crystals from which they are fashioned. The stunning configuration of the towers is designed to offer magnificent views of some of Dubai's finest attractions and landmarks from every aspect.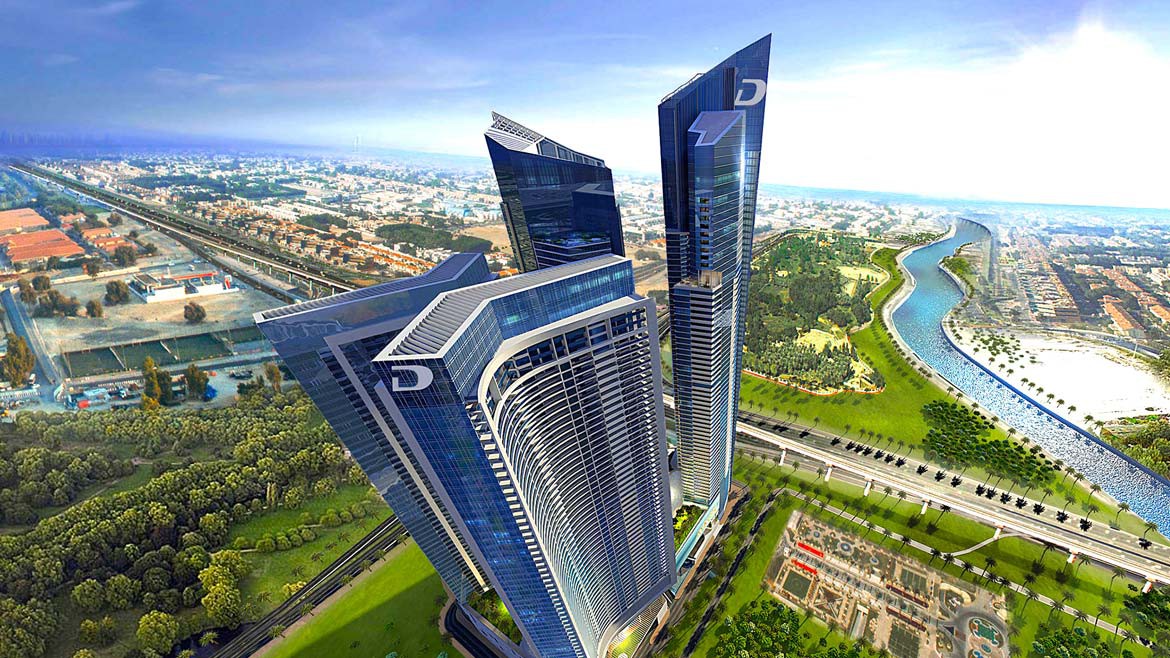 Six Towers, 2 Stages
AYKON City will be developed in two distinct stages. The first part will comprise four statuesque towers linked by a central podium. The second part will further enhance an already iconic project.
Stage 1
TOWER A: AYKON Hotel & Serviced Residences
TOWER B: DAMAC Maison Hotel & Hotel Apartments
TOWER C: The Residences
TOWER D: The Office Tower
Stage 2
TOWERS E and F to be unveiled
TOWER A – AYKON HOTEL & SERVICED RESIDENCES
Introducing a brand for the distinguished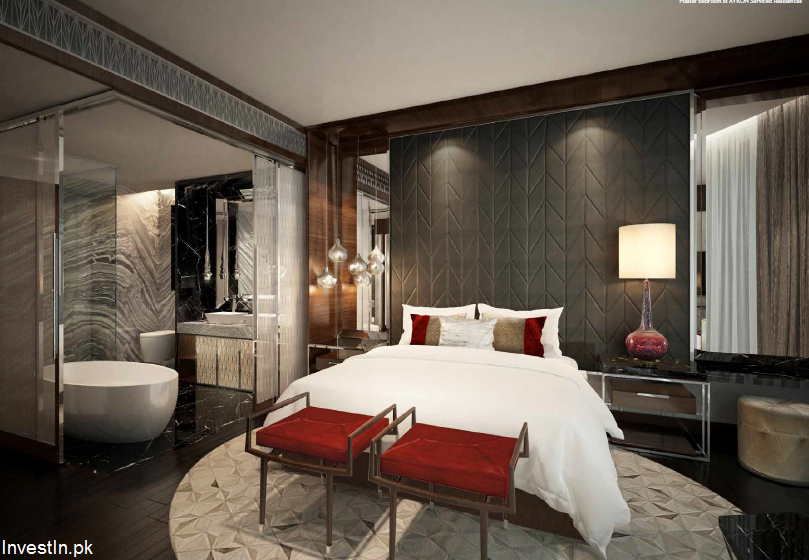 The AYKON Hotel & Serviced Residences represent the first project from the supreme AYKON hospitality brand, with a spacious suites-only ethos. The guest experience is for those who require intelligent, sophisticated service from a brand that has class appeal and exudes exclusivity, with every detail crafted to inspire and enchant.
The hotel suites vary in size from a generous 60 square meters, all the way up to a capacious 400 square meters.
The serviced residences are available in a variety of arrangements and residents can opt to benefit from hotel services, if they wish.
TOWER B – DAMAC MAISON
HOTEL & HOTEL APARTMENTS
There's no place like Maison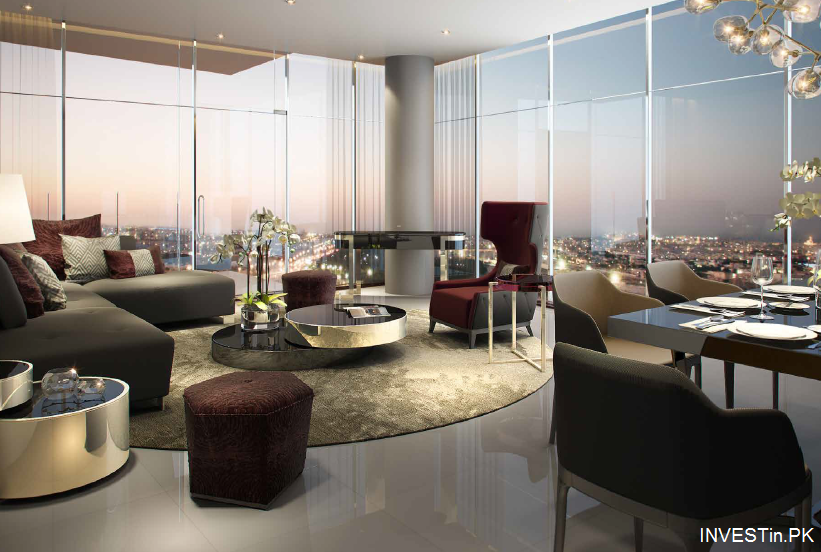 Occupying the top 10 floors of its tower, our hotel offers guests the full complement of signature services from the DAMAC Maison Hotels & Resorts brand. Every luxury is considered and nothing is too much to ask.
Below the hotel, a collection of furnished and serviced hotel apartments combine a relaxed, 'home from home' ambiance, with a suite of optional services.
Choose from hotel suites to one, two and three bedroom apartments − all of which represent a lucrative investment opportunity into Dubai's hospitality market.
TOWER C – THE RESIDENCES
An inspiring address
Make your home at AYKON City and you'll have an enviable address. One of the finest locations in Dubai will allow amazing views and easy access to the surrounding neighborhood; and when you don't wish to venture outside, a whole host of five-star amenities in a place you can call home. Choose from studios, and one, two and three bedroom residences.
TOWER D – THE OFFICE TOWER
Elevate your corporate profile
You'll find some of the world's most esteemed names in business here. Join the ranks of respected companies with boutique office space that boasts some of Dubai's finest views and community facilities. Supreme finishes and flexible arrangements are complemented by state-of-the art technology, along with meeting rooms and conference facilities to inspire.
TOWERS E AND F
The grand finale
Suffice to say these new towers will add an extra degree of exclusivity and a further dimension of aspiration to an already incredible project.
A CLUE: Imagine arriving home to your penthouse and parking your car outside your front door – on the 28th floor…
Location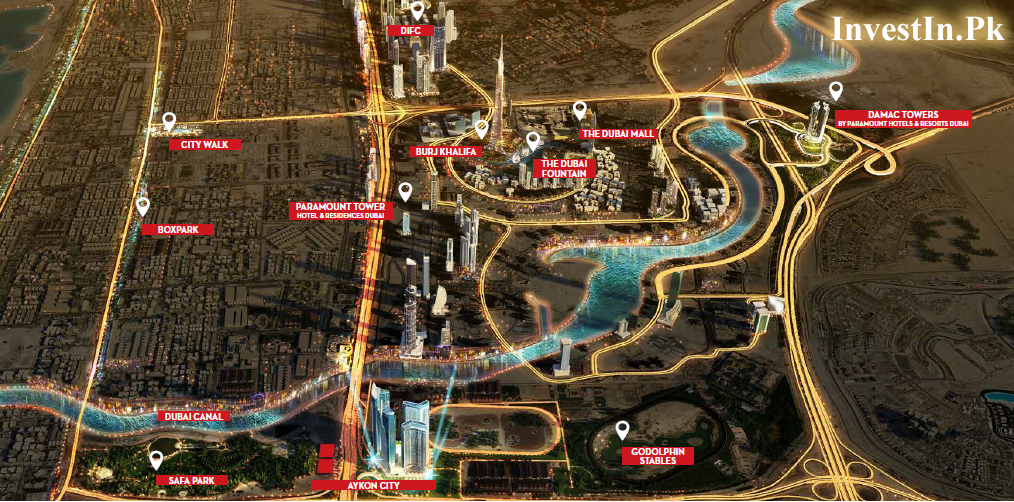 Experience
360°

View
For Booking and Details Contact:
Rizwan Ahmed
DAMAC PROPERTIES Co. LLC.
Dubai, United Arab Emirates
Cell/Whatsapp: +971-50-334-1871
E-mail: Rizwan.Ahmed@damacgroup.com