Gulberg Rabi Center Overview
Gulberg Rabi center is a state-of-the-art commercial project in the developing heart of Gulberg Islamabad. Gulberg rabi center offers Commercial shops, Luxurious apartments, and Showrooms, etc. Gulberg Islamabad is the new development hub of Twin cities while Gulberg Rabi Center stands as one of the iconic commercial projects.
Introduction
Gulberg Rabi Center is a commercial project by the Gulberg housing project in Gulberg Islamabad. Gulberg Islamabad is known for its luxury, commercial development, and Fast appreciating prices. Gulberg Islamabad provides all the facilities of a modern housing society better than any other housing society out there in this affordable range. The business hub in Gulberg Islamabad is set to revolutionize the near urban projects with its fast development and is expected to provide a huge pool of jobs.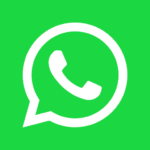 Gulberg Rabi center is of a kind commercial project while offering floors dedicated to single-purpose shops to increase business ease, development, and a lot of variety. This project has been brought to us by one of the credible real estate developers, Ovaisco.
Ovaisco is one of the biggest names in the real estate industry. They are known for delivering top-notch projects for almost 21 years now. Singapore Plaza and Gulberg Business Center are one of many successful projects brought to twin cities. Now Gulberg Rabi Center is their next upcoming project in the business hub of Gulberg Islamabad and is expected to be a great hit too.
Gulberg Rabi Center Features
State of the art sophisticated architecture and design with elegantly laid out floor plans
24 Hours Power Backup Generators
24 Hours Security
CCTV Cameras and Security
Centrally Air-Conditioned Atrium
Covered Car Parking
Fire Safety
24 Hours Power Backup Generators
Centrally Air-Conditioned Atrium
Boutique Shops
Cosmetics Shops
Mobile Market
Commercial Market
Three strategically positioned heavy duty & swift elevators including a cargo lift
Cutting-edge security system
Superior arrangements for high-speed internet, high definition TV cable, PTCL, etc
24/7 Customer & Maintenance services
Spacious, Elegant, and stylish
Balconies
Emergency Exits on every floor
Gulberg Rabi Center Floors and Payment plans (commercial shops and apartments)
Gulberg Rabi center consists of 8 floors on a 12 Kanal piece of land. The building is open on three sides while surrounded by beautiful green belts all around. The main feature of Gulberg Rabi Center is that some of the floors are entirely dedicated to one purpose shops.
Ground Floor Level 1 (Clothing Market)
Ground Level 1 of Gulberg Rabi Center will be solely dedicated for the purpose of serving national and international clothing brands while remaining on the same floors. There will be a total of 97 shops in this Clothing Market.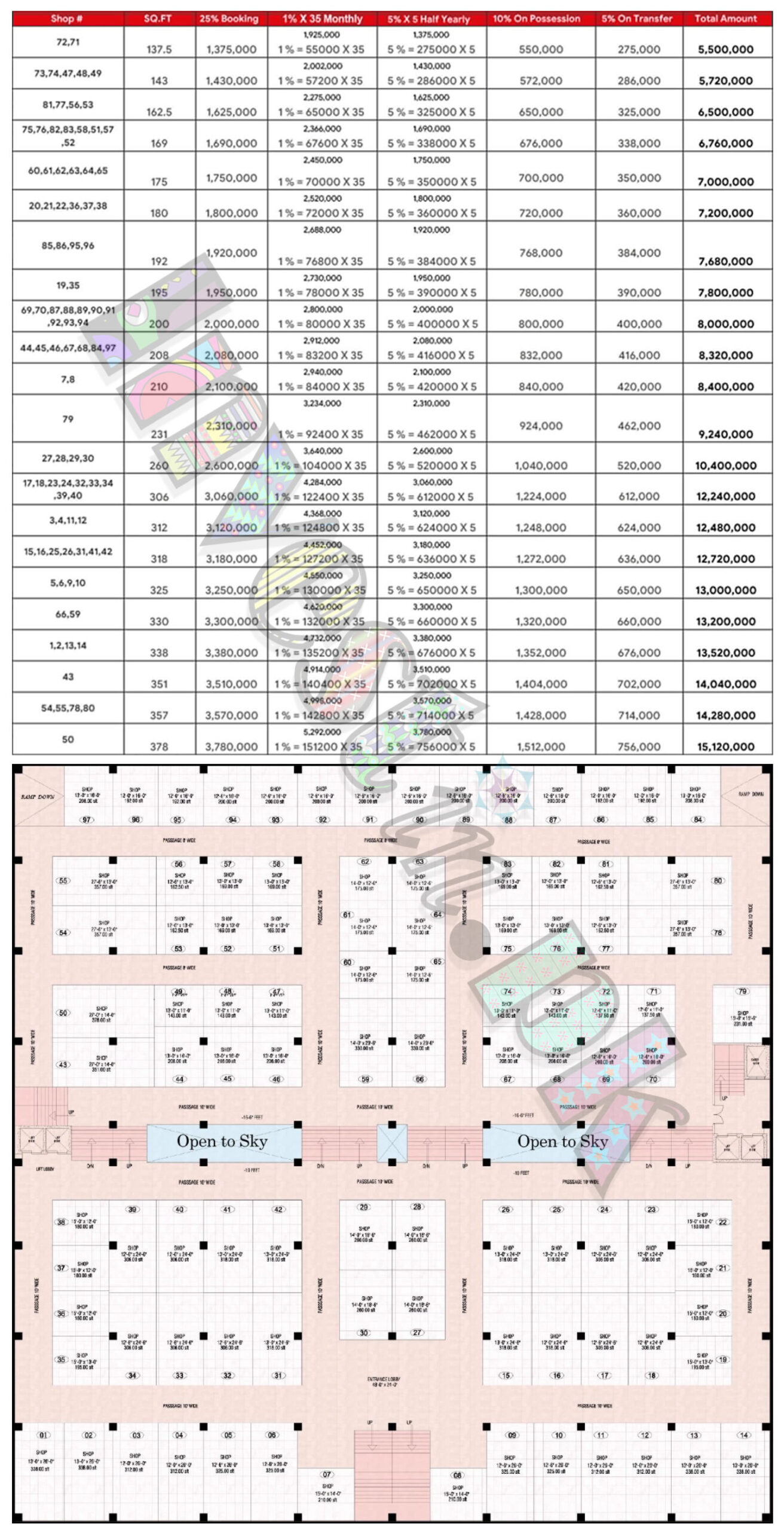 Ground Floor Level 2 (Branded Outlets)
There are total of 80 shops on this floor. This floor will host All branded shops serving a vast array of services and products to the visitors.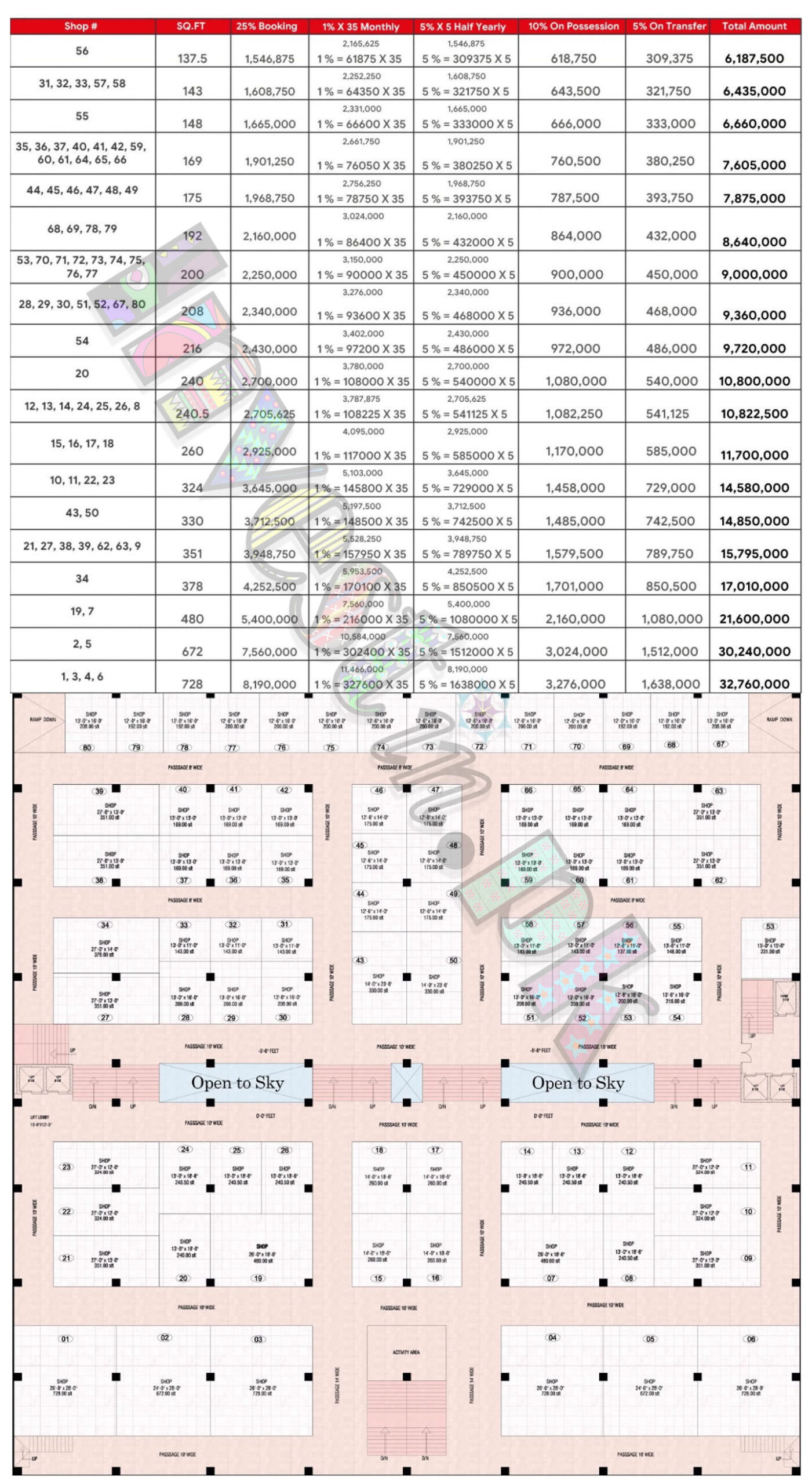 Upper Ground Floor (Jewellery Bazar)
The upper ground floor Is also a sole purposely dedicated floor offer national and international brand for jewelry. There will be a total of 107 shops in the Jewellery Bazar.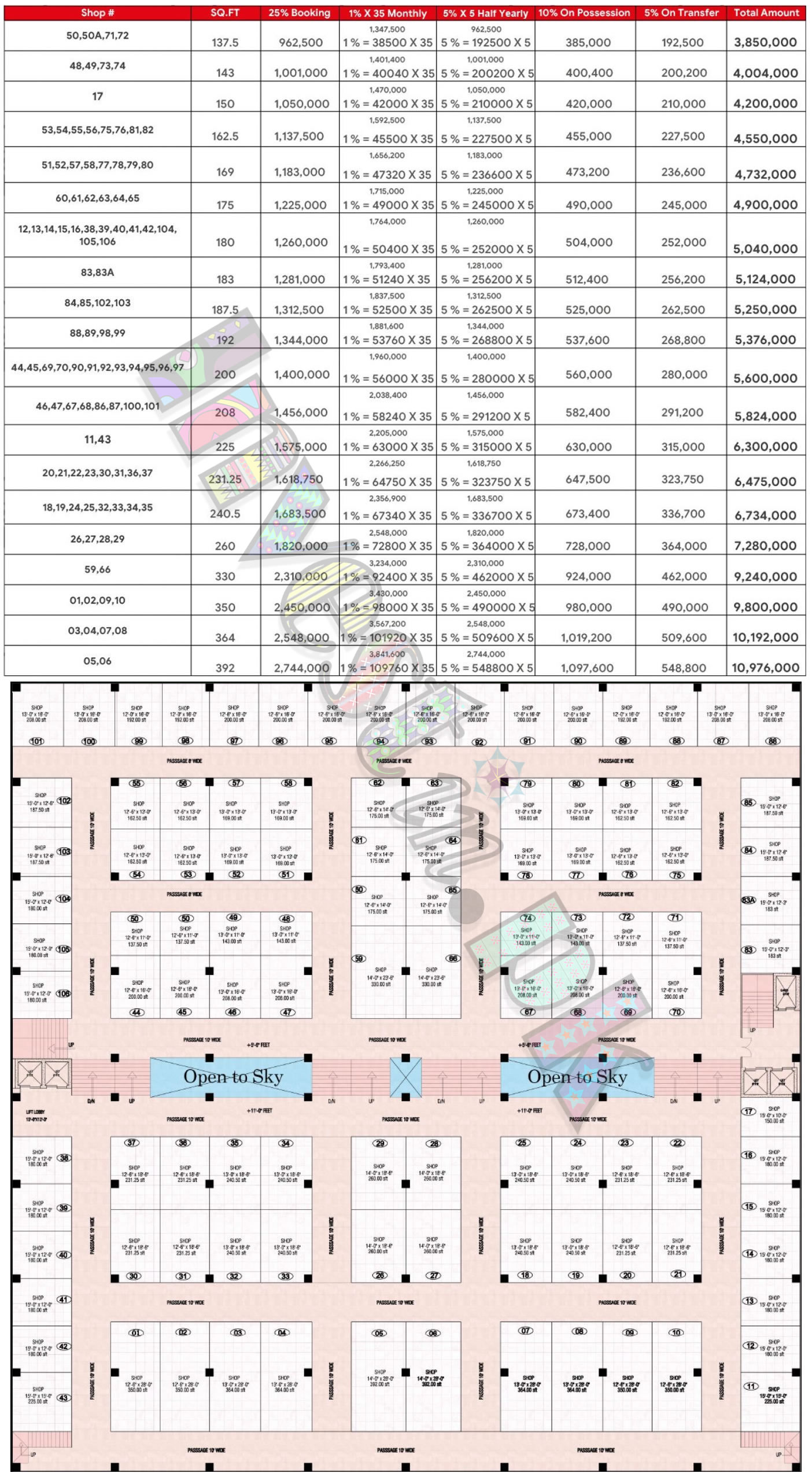 First Floor (Mobile and Technology Market) 
The first floor is a dreamland for mobile and accessories lovers as it is exclusively for cell phones and their accessories. There are a total of 193 shops on this floor. These shops are usually small specially designed to offer the small space required for mobile shops.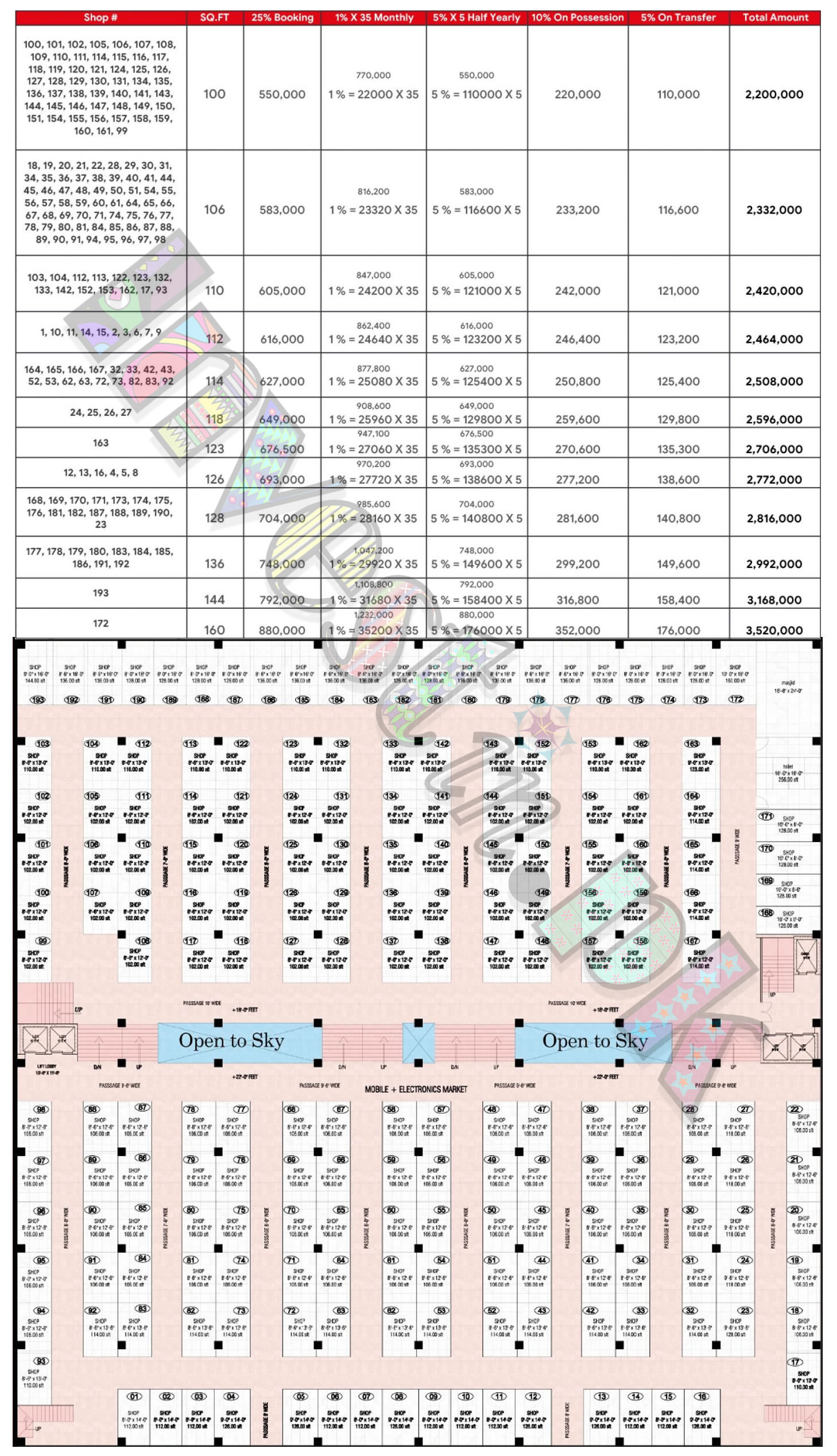 Second, third and fourth Floor (Apartments)
The top 3 floors of the building are entirely dedicated to deluxe apartments. There is a total of 120 apartments varying from a single room to 3 rooms luxurious apartments while offering all the luxury amenities. 120 flats are equally divided on 3 floors (2nd, 3rd, and 4th floor) with 40 on each floor. All floors share the same map while optimizing space utilization without compromising on luxury.  The smallest apartment starts from a single room 455sqft to 3 room luxury apartments spanning 1610 sqft. Prices vary from apartment to apartment on different floors with the same footprint. Prices are a bit less as you go up the floors.
The main features of the project include a separate lift for apartments, tiled flooring, aluminum windows, contemporary design, kids playland, parking space, CCTV security, firefighting system, earthquake resilient structure, maintenance team, stand by generators, water supply, electricity, gas, PTCL cable, TV cable, parking space, 24/7 security guards, mosques and excellent internal planning.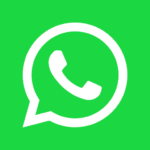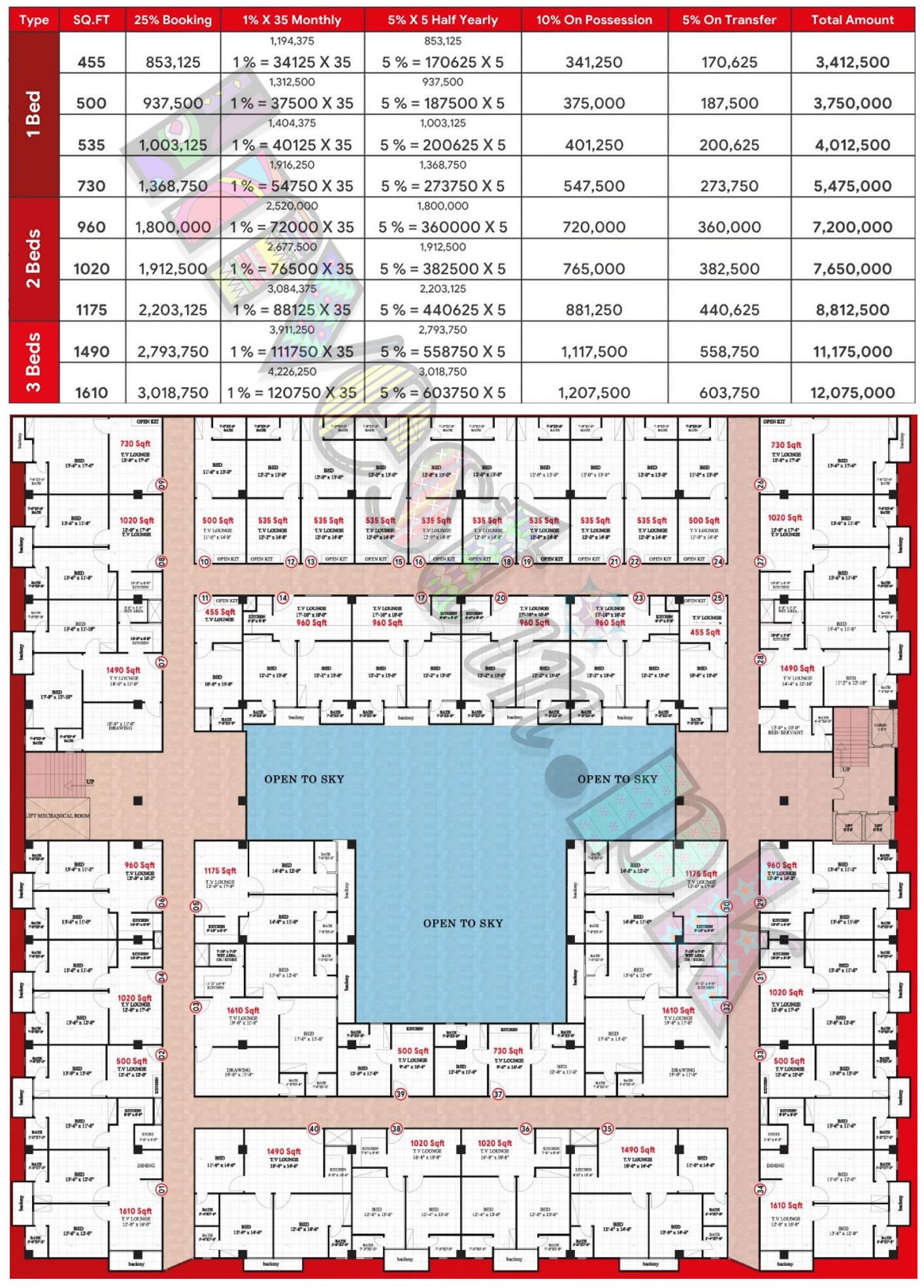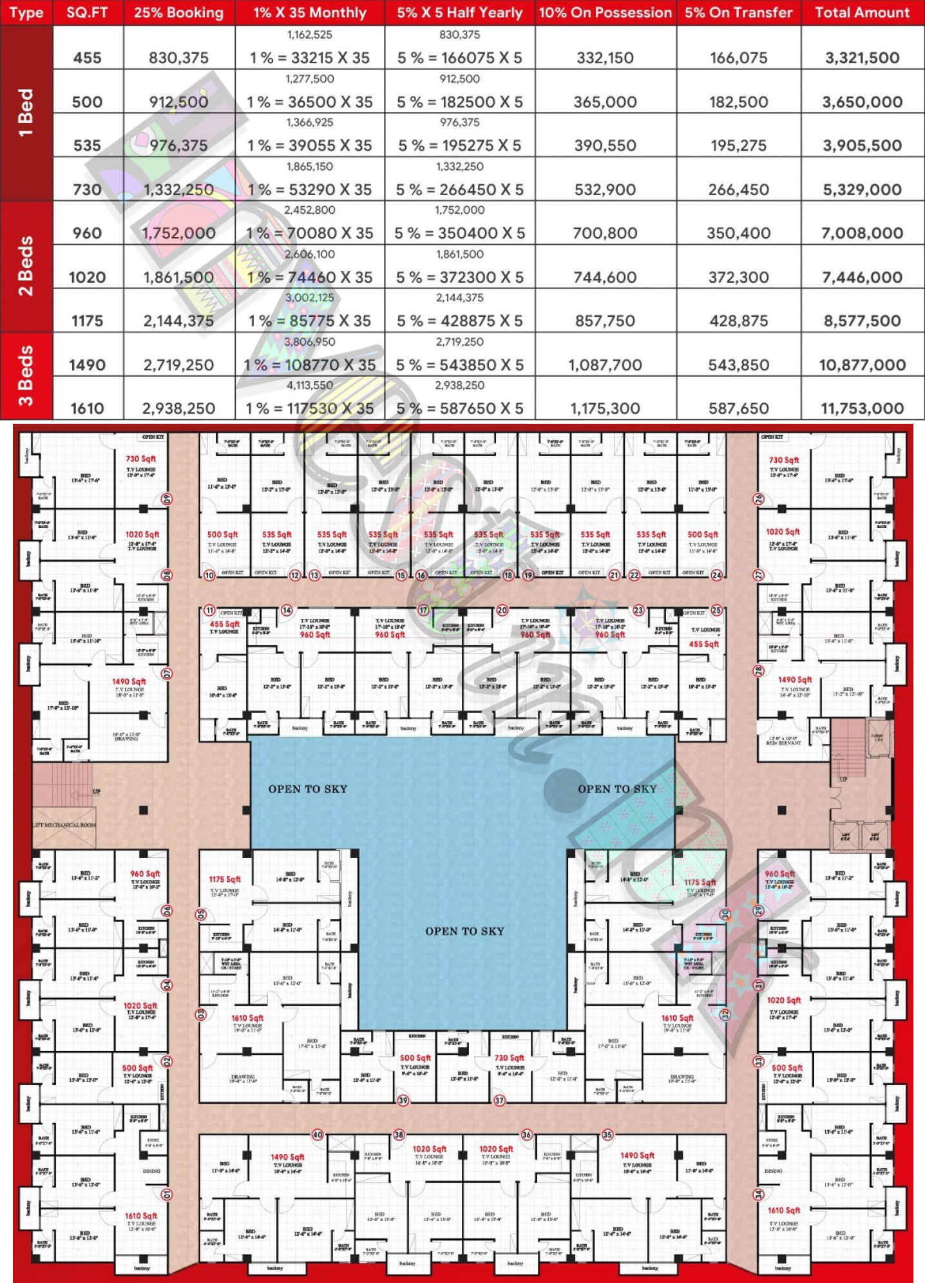 Extra Charges
| | |
| --- | --- |
| Front Facing | 10% |
| Corner | 10% |
| Front + Corner | 15% |
Important Note
10% discount on full payment at the time of booking.
All Payments should be paid by allottees as per the schedule and installments should be paid between the 1st to 10th of every month.
All Payments should be made by cash/ Cheque Pay order in favor of "Gulberg Rabi Center".
Gulberg Rabi Center is located in D-Markaz of Gulberg Residencia which is easily accessible from different areas of Rawalpindi and Islamabad. The location of D-Markaz is very strategic as it is a central market for the five housing societies surrounding Gulberg Residencia.
Gulberg Rabi Center Contact Details