Overview
Gulberg Islamabad
Gulberg Islamabad is a very sensational housing society in the real estate sector of Pakistan. Gulberg Islamabad is Located near the junction of Rawalpindi and Islamabad, this housing society is approved by CDA and considered as a future hub of commercial and residential properties.
This housing society is CDA approved. There are two phases of Gulberg Islamabad.
1. Gulberg Greens
Gulberg Greens is a massive area dedicated to the Gulberg Greens Farm House Scheme. The area was approved by CDA in2011.
2. Gulberg Residencia
Gulberg Greens housing society aka Gulberg residencia is an 18000+ Kanal housing society with its approval from CDA in 2018.
Both these societies are interconnected to each other via the Gulberg highway.
Gulberg greens
Gulberg greens is situated at 8km away from the zero-point Islamabad. There are a total of 6 blocks in Gulberg greens.
Executive
Block A
Block B
Block C
Block D
Block E
Plot sizes are 4, 5, and 10 Kanal, which are available, these are available for the construction of farmhouses There are multiple commercial areas, which are designed to make Gulberg greens a new commercial hub. There are a total of 2000+ plots available of different sizes for the construction of farmhouses.
Gulberg Greens is set to be a new business hub and there are a lot of facilities concentrated for the Gulberg greens to achieve this goal. There is a 200+ Kanal Gulberg mall which offers easy accessibility from all the 6 blocks. They offer Knowledge village, mosques, parks, and green belts around all the roads with beautiful landscaping planted with evergreen trees and fruit trees. They are putting a lot of effort into the greenery and natural beauty of the area. All most 80% of the area is covered with green beautiful belts, trees, flowers, and fruit trees.
For bookings & Details Call/WhatsApp
0347-3456789
Gulberg Greens Commercial
Gulberg Greens Commercial Plots Islamabad ensures comfort at all levels. The commercial plots are available in varying sizes of the plots are 178, 228, and 278 square yards. Gulberg Greens is located on the main Gulberg Expressway, the most proximate roadway in Islamabad. It is only half a kilometer away from the airport chowk. There are 4 business/ commercial areas in the Gulberg greens which offer excellent business and development opportunities.
Gulberg civic center: Civic Center in the Executive Block is the central commercial hub present in Gulberg Greens with plot sizes 40*40, 40*50, and 50*50.
Gulberg business park: Gulberg business park is home to many commercial and apartment buildings. The plots size available for sale are 40*40, 40*50, and 50*50.
Gulberg business square: Gulberg business square is also home to many apartment buildings with 1 and 2-bed apartments.
Gulberg Blue area. Gulberg blue area is a major business area with its goal to create a very friendly business area. It's a good place to have different businesses and investments.
Commercial Plots
Gulberg Greens Commercial Plots Islamabad is located in the business square. Business districts are by purpose meant to basket profits. The lucrative side is hence plainly evident. Gulberg Greens ensures comfort at all levels. The commercial plots are available in varying sizes so that the buyer is not in chains over a particular type or size. The available sizes of the plots are 178, 228, and 278 square yards. The commercial plots are nominal in prices. Plus, the booking and payment plans are buyer-friendly and segmented into three different memoranda of understanding. Booking starts at 10% only.
Gulberg Greens Commercial Plots Islamabad Features
24/7 Electricity
Sui Gas
Clean Water
Wide Roads
Street Lights
24/7 Electricity
Clean Water
24/7 Sui Gas
Gated Community
24/7 High-Security
Wide Roads & Streets
Beautiful Parks
Play Area for Kids
Green Grounds
Jogging Tracks
Gymnasium
Hospital
School
Community Centers
Market
Mosque
Community Center
Gulberg Greens Business Attraction
Telenor moved their main headquarters in the Gulberg greens with a cost of 80 million dollars. This proves the importance of the Gulberg greens and how it has started to attract multinational organizations to invest deeply. The total area of the office is comprised of about 15 acres (120 Kanal). This office is in Gulberg greens Block B.
The blue area of Gulberg green offers 8 Kanal business plots for high rise commercial towers which host flats. The development in Gulberg blue area is being done at a very rapid pace.  The commercial area in between Block A and Block C resembles the kohsar market G-6. There are different fast food outlets and other cafes and restaurants.
Gulberg Greens Educational Institutions
Multiple Educational plots are available for world-class educational institutes. Roots millennium and Frobels are already operational in Gulberg greens. Different MOU's have been sighed with different universities too.
Medical Facilities
A medical complex is under construction with excellent health services i.e. 400 rooms, dental college is soon to be constructed too.
5-star hotel is also under construction in the Gulberg greens
Other services and Attractions
Gulberg green has constructed an Artificial lake (expected to be completed in 2021) 2100 Kanal with a 5 km walking track around him. The park area around the lake has beautiful greenery and trees too
Gulberg Greens offers underground electrical wiring, 20 min signal-free ride to Islamabad blue area, a mega-sports complex with both indoor and outdoor games.
There is also a Gulberg club available with golf course facilities. The electricity and Sui gas are available for 24 hours with no disruption. They also have their own water storage and maintenance facilities with full availability to clean useable water.
How to buy a farmhouse in Gulberg greens
In Gulberg Greens, the plots are available for resale and they don't offer lease payment but rather prefer cash payment. The plot sizes are 4, 5, and 10 Kanal. There are already farmhouses made on the property available for sale too. There are opulent amenities and breathtaking views with clean and classy habitat plus luxury accommodation all in one place.
| | | |
| --- | --- | --- |
| Farmhouse | Min price | Max price |
| 4 kanal | 2.8 | 4.9 |
| 5 kanal | 3.7 | 6.5 |
| 10 kanal | 6.5 | 16 |
Gulberg Greens Plots Islamabad Location Map
The location of Gulberg Greens is prime and exclusive. The prices of Gulberg will increase fast because of its location. It is the best chance for you to invest and buy your plots at Gulberg Islamabad.  Many people are interested to live in Gulberg Greens Islamabad because of their secured community and world-class facilities and features. People are booking their plots in Gulberg green. So, what are you waiting for? Book your plot and make your living dream a reality?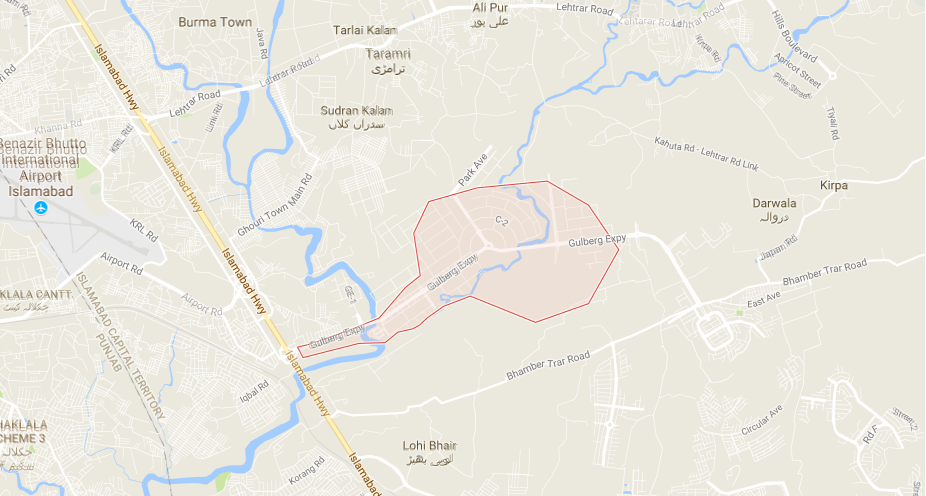 Layout Plan
Gulberg Greens Islamabad Commercial Layout Plan.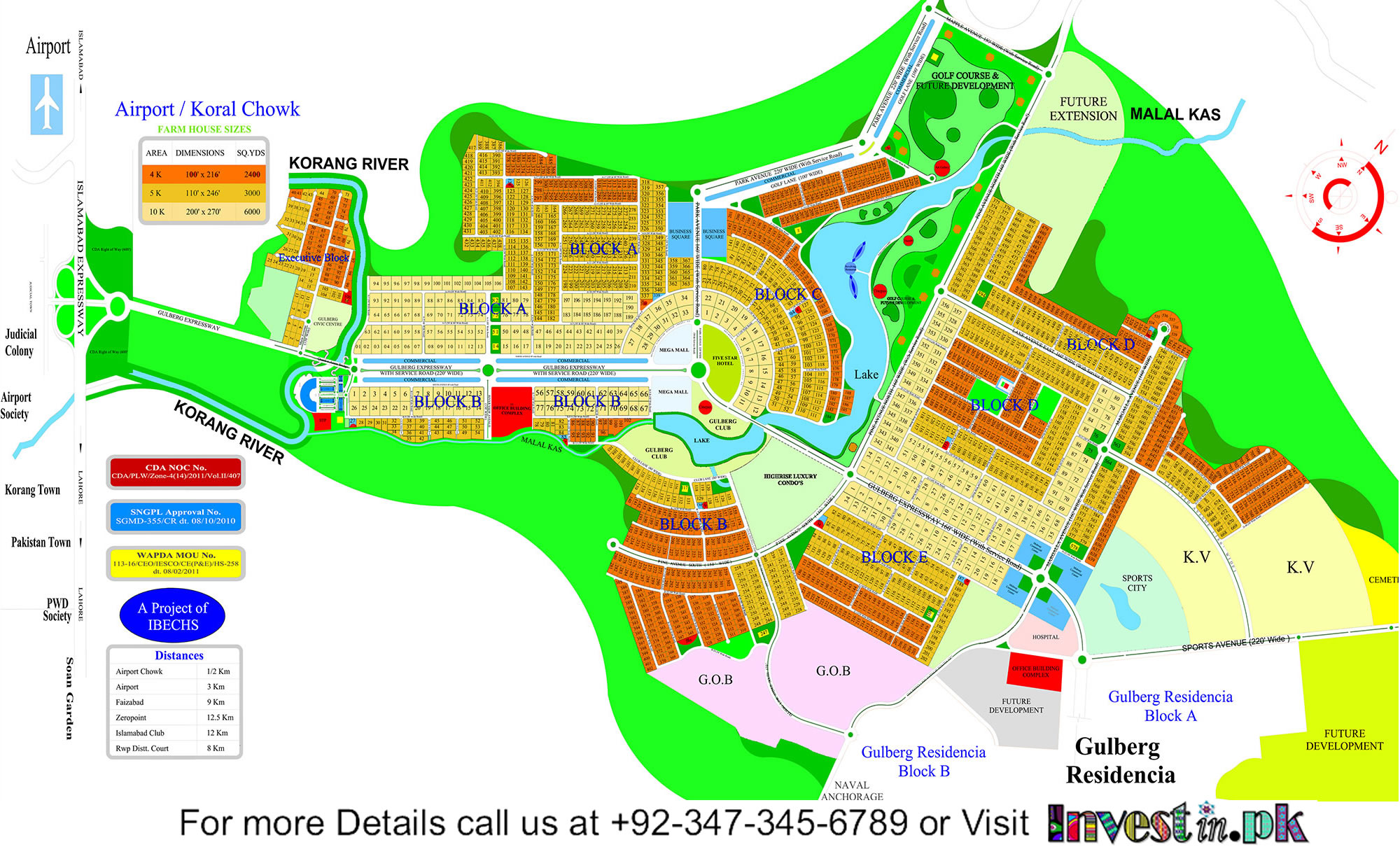 Gulberg Residencia
Gulberg residencia is also a project of Gulberg Islamabad with 5, 7, 10, 14 marlas, 1, and 2 Kanal plots available. The total area of Gulberg Islamabad is 43000 Kanal while 18000 out of which is for Gulberg greens while the rest is for the Gulberg residencia and other purposes. After the launch of Gulberg residencia, Gulberg Islamabad launched their own underpass. This underpass allows the signal-free commute from Islamabad express highway. This underpass also connects the Rawalpindi city with Gulberg I­­­­­­­slamabad. Gulberg residencia is a very affordable place to live in while easy accessibility to Gulberg Greens and Islamabad via Islamabad express highway.
Gulberg residencia hosts most of the services enjoyed by the Gulberg greens while having affordable living space. There is a D Markaz in the Gulberg residencia with all the facilities. Gulberg residencia has the same level of green belts and natural areas as any other society (not like Gulberg Greens).
Prices of plots in Gulberg Residencia
| | |
| --- | --- |
| Plot size | Price |
| 5 marla | 40 lac |
| 7 marla | 80 lac |
| 10 marla | 1.2 crore |
| 20 marla | 1.6 crore |
Conclusion
Gulberg Residencia and Gulberg Greens are the most extravagant investment and living areas with the fastest Return on Investment (ROI) and also most facilitated and beautiful living area with the resemblance to main downtown Islamabad. The business hub is also being created with very high standards and a business-friendly atmosphere. Islamabad's population is growing at a very exponential rate with growing business opportunities and new developments. Gulberg is the new center of all this business development and growth.
For bookings & Details Call/WhatsApp
0347-3456789